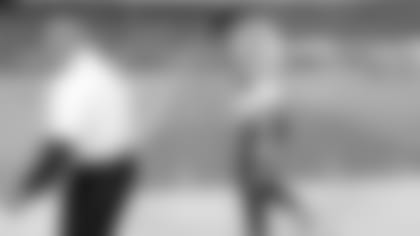 ]( "ILB Brian Cushing")

Peel-back blocks, like the one that ended Texans linebacker Brian Cushing's 2012 season, are now illegal inside the tackle box.
NFL owners voted on the rule change on Tuesday at league meetings in Phoenix. Gregg Rosenthal of NFL.com says the rule is likely to be known as "The Brian Cushing rule." Cushing suffered a torn ACL in his left knee on a peel-back block from New York Jets guard Matt Slauson on Oct. 7 at MetLife Stadium in New Jersey.
Cushing has said he was in favor of the league looking into its rules concerning low blocks to prevent future injuries like his. The Texans' defensive captain missed the final 11 regular-season games and the playoffs last season after being placed on injured reserve. He is still rehabbing his knee and will not participate in OTAs (organized team activities) in the spring.
Twitter.com/NickScurfield