INDIANAPOLIS -Offensive line is arguably the deepest position in this year's NFL draft. It's fitting then that the guys up front got the combine started in earnest Saturday as they were the first non-specialists to take to the turf at the RCA Dome.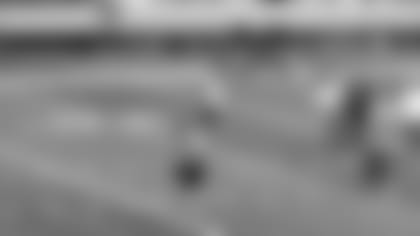 Like many teams, the Texans are in search of help up front and head coach Gary Kubiak says that teams are now looking for one key attribute in their offensive linemen.
"What you need now is versatility," Kubiak said when he addressed the media Thursday. "When you look at how many guys suit up on gameday, when you're fighting for a job on an NFL club, what you're looking for is versatility.
"If you can play both sides at tackle or both sides at guard, that makes you very valuable, so it's very important."
 Joe Thomas was billed as the cream of the crop on the line. Saturday he did nothing to hurt his stock by running the 40-yard dash in 4.92 seconds and looking outstanding during the rest of his workout.
Now a mortal lock for a top-five selection, Thomas will be scrutinized tremendously in the coming weeks. But those who saw his workout Saturday likely won't be swayed.
And if any team is thinking an offensive lineman is not worthy of a top-five selection, Thomas offered this tidbit to reporters.
"You see just about every offensive lineman who's been picked in the top five, top 10 in the last few years has gone on to start and start for a long career," Thomas said. "You can't say that about quarterbacks or running backs or receivers or any other position."
One player that might move around during his NFL career is
's Ben Grubbs. Grubbs had a solid workout on Saturday, being clocked between 5.1 and 5.2 during his pair of sprints in the 40.
At 6-3 and just over 315 pounds, Grubbs offers teams a viable option at both guard positions.
"I think I'm pretty versatile," Grubbs said. "I think that's one of the advantages I have. I'm a 300-pounder, but I can still move and get to the second level and make blocks that maybe some other guys can't make."
Grubbs said that he is able to grasp blocking schemes easier now because of time at another position on the offensive line.
"Before I played guard, they had me at tight end so when they moved me to guard, I pretty much knew the schemes already to block because that's all I did pretty much," Grubbs said. "I never did catch any balls. I think that helped me out tremendously when I moved to guard."
Other players that looked good during Saturday's workout included Akron's Andy Alleman, Virginia Tech's Brandon Frye, Penn State's Levi Brown, Ohio State's Doug Datish, Texas' Justin Blaylock, USC's Ryan Kalil and Tennessee's Arron Sears.
Of that group, Blaylock and Sears are perhaps the most intriguing because they played tackle in college. But they could benefit from a move inside.
Blaylock showed some good quickness in workouts and clocked in at 5.10 in the 40. At just over 6-3 and 330 pounds, he could play at right tackle, but might be ideally suited for the interior line.
The same can be said for Sears, who didn't exactly wow scouts on Saturday, but has shown enough in
to at least appear NFL ready. Sears also measured in with the longest arms (34.5 inches) this week of players who are projected to play guard.
Sears was a tackle for the Vols, but at 6-3 and less than 320 pounds, he seems to be suited for either guard spot.
Could any of these players end up in a Texans uniform next season? Sure, though Thomas likely will be gone by the time
picks at eight. That being said, the Texans should have a good chance to draft one of the aforementioned players.