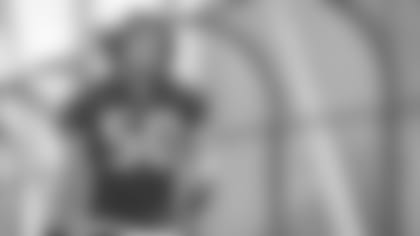 Head coach Gary Kubiak has his eyes on third-year outside linebacker Bryan Braman.
The possibility of Brooks Reed moving to inside linebacker leaves a potential starting spot open at outside, and Braman might be the right guy for the job.
"It's been good," Kubiak said of Braman's progress after the second session of OTAs on Tuesday. "Obviously, he's getting a chance to work with the starters right now. Usually when guys get put in those positions because of Brooks (Reed) moving or whatever, it doesn't matter, but when guys get put in those situations, you'll see them flourish and take off. "
Last year, Braman became the first player in Texans history to block two punts in a single season, recovering both for touchdowns. The hard-hitting 'wild man' was named the Special Teams Player of the Game for the Week 15 win over the Colts. His heroics helped the Texans to an AFC South Division clinching win.
After gaining confidence and another year of experience in 2012, Braman is relishing the opportunity to prove he belongs with the starting front seven.
"I'm ecstatic," he said. "Obviously some of the reason why they bring you in here, you gotta be ready to step up. They always say it's 'next man up,' and I feel like it's my time. Hopefully, I can step up and fill the spot."
Braman believes the key to securing a starting role lies in understanding the Texans' defensive scheme and giving "110 percent," which started for him this offseason.
"I've been focusing on getting in better shape, making sure that I'm able to get bigger and stronger and obviously staying in my book," he said. "Just studying and making sure that I'm confident in knowing what I'm supposed to be doing out there for the defense."
Kubiak will continue to observe Braman and the rest of the defense for the remainder of OTAs, which conclude on June 6.
"It's interesting to watch him right now," Kubiak said. "He was good yesterday and I'll go back and watch him today. Here's an opportunity to say, 'Bryan, can you start? Can you be a starter in this league?' So we're going to give him a chance throughout OTAs to see how far he can come."