Season tickets at Reliant Stadium this season have given ticket holders more theatre than the Alley and Hobby Center combined.
But while the Texans never fail to put on a show, sometimes the ending feels a little bit tragic, in the truest football sense of the term.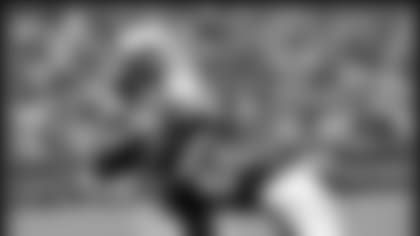 Patriots kicker Adam Vinatieri booted a 28-yard field goal with 41 seconds left in overtime Sunday to lift New England to a 23-20 win over Houston before a record crowd of 70,719 at Reliant Stadium. It was the first overtime game for the Texans.
"This is a pretty tough loss," wide receiver Jabar Gaffney said. "We had one of the hottest teams in the NFL in here today and we had them on the ropes. We just couldn't finish them."
The Patriots improved to 9-2, keeping pace with Indianapolis for the second-best record in the AFC. The Texans fell to 4-7, again failing to win consecutive games for the first time in their brief history. But never had they been this tantalizingly close.
Despite being outgained by an astounding 407 total yards to 141 in regulation, the Texans led 20-13 late thanks to an opportunistic defense and special teams. Both of quarterback Tony Banks' touchdown tosses were set up by turnovers and Kris Brown's second field goal was set up by a blocked punt.
But Patriots quarterback Tom Brady led his team on a nine-play, 80-yard drive in the closing minutes, completing a four-yard touchdown pass to tight end Daniel Graham on 4th and 1 with 40 seconds left in regulation.
Houston won the overtime toss, but on its first snap Banks threw an interception. Linebacker Mike Vrabel returned the ball to the Texans 27 and the Patriots simply ran the ball to set up Vinatieri.
But strong safety Ramon Walker blocked Vinatieri's 37-yard attempt to give the ball back to Houston. Walker had earlier blocked a punt, giving him the team's first two blocked kicks of the season.
The two teams exchanged possessions, but the Texans looked in control when they forced a deep punt and got the ball at the Patriots 35. New England proceeded to push Houston back five yards on three plays, forcing another punt. The Texans wouldn't see the ball again.
Banks completed just 10 of 25 passes for 92 yards, although he threw a 10-yard scoring strike to wide receiver Andre Johnson and a 16-yard touchdown toss to tight end Billy Miller. Brady completed 29 of 47 passes for 368 yards with two touchdowns and two interceptions.
"It comes down to winning," nose tackle Steve Martin said. "Give them credit, they came back. We had them beat. Execution is pretty much all it came down to.
"It comes down to finding a way to win. You just have to do whatever you have to do to win. Regardless of what mistakes you made throughout the game, it's all about in that last minute can you find a way to win."
Houston's defense, coming off its best performance of the season at Buffalo, started strong again. Martin sacked Brady on New England's first snap, helping force a three-and-out.
On their second possession, the Texans' offense started to march. Banks dodged a blitz and completed a 10-yard pass to wide receiver Corey Bradford on 3rd and 4 to move the chains. Banks then looked downfield to Miller. The pass was incomplete but a pass interference penalty was called on Patriots strong safety Eugene Wilson. The 28-yard infraction moved the ball to the Patriots 14.
On the next play, the Texans unveiled a play they had been working on in practice all week. Banks threw immediately to wide receiver Jabar Gaffney, who looked to throw downfield. But the Patriots had it sniffed out so Gaffney took off on his first career run, scampering 13 yards all the way to the one-yard line.
But New England stuffed running back Domanick Davis on two consecutive plays and a pass from Banks to Johnson fell incomplete. Houston settled for a 19-yard field goal from Kris Brown for a 3-0 lead. The drive consumed 8:41, the longest scoring drive in Texans history.
The Patriots had an answer. Brady converted a 3rd and 4 with a six-yard sneak to get the ball to Houston's 42-yard line on the last play of the first quarter. Three plays later, Brady had numerous time in the pocket to find rookie wide receiver Bethel Johnson for a 27-yard touchdown pass to give New England a 7-3 lead.
The Patriots got the ball right back at the Texans 48 and went to work. Brady threw a pass across the field to running back Kevin Faulk, who scampered 22 yards to the Houston 26.
New England got the ball to the 10-yard line, where Brady threw it right to strong safety Eric Brown. But Brown fumbled as he tried to gain yardage and an alert Johnson recovered at the Texans 7.
A false start penalty helped push New England back. Linebacker Jamie Sharper made a shoestring tackle on Brady on 3rd and goal, forcing Patriots kick Adam Vinatieri to kick a 20-yard field goal.
Late in the second quarter, Brady drove his team into Texans territory to set up another Vinatieri field goal, a 38-yarder. But the ball nailed the right upright with one second left and the Patriots' halftime lead remained at seven.
Houston had just 65 total yards in the first half.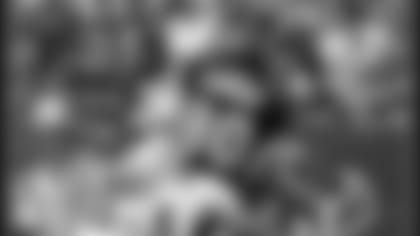 But New England regained its momentum to start the third quarter, marching to the Texans 34. Facing a 4th and 5, Brady lofted a long pass to wide receiver Deion Branch, but cornerback Kenny Wright broke up the play. The Texans had decent field position and took advantage, but couldn't take advantage, managing just one first down on a 12-yard strike from Banks to Johnson.
Cornerback Darrick Vaughn caught Chad Stanley's punt at the five-yard line, forcing the Patriots to start deep in their own territory. New England moved to its own 34, but on 3rd and 5, linebacker Shantee Orr pressured Brady into a poor throw. Cornerback Marcus Coleman picked it off and returned the ball to the Patriots 11. It was Coleman's team-leading fifth pick of 2003.
Two plays later, Banks lofted a gorgeous 10-yard lob to Johnson, who leaped over Patriots cornerback Tyrone Poole to tie the score.
The Patriots remained undaunted, continuing to pound away at Houston's defense. Brady hit wide receiver J.J. Stokes -- acquired just this week -- for a 31-yard gain on 3rd and 8, pushing the ball all the way to the Texans 8.
But Martin stuffed running back Antowain Smith for a four-yard loss on first and goal. Two plays later, Orr and nose tackle Junior Ioane combined for a four-yard sack. Vinatieri came in to boot a 32-yard field goal, giving New England a 13-10 lead to start the fourth quarter.
The Texans couldn't get a first down on their next series so New England got the ball back at its own 42. The Patriots moved the ball to Houston's 31, converting a 4th and 2 in the process. But linebacker Kailee Wong nailed Brady on the next snap, forcing a fumble that fellow linebacker Jay Foreman scooped up and returned to Patriots 31. New England challenged the ruling but lost a timeout.
After a false start, the Texans faced 3rd and 9 at the Patriots 30, but Banks whipped a 12-yard pass to Johnson just as he was about to get hit. Two plays later, Banks pay faked and found Miller wide open for a 16-yard touchdown and Houston's first lead.
On the ensuing possession, Brady fumbled the snap on 3rd and 5. On the next play, strong safety Ramon Walker blocked Ken Walter's punt and Houston took over at the Patriots 20. Brown kicked a 29-yard field goal to push the lead to seven points with 3:15 remaining.
"On the punt, I just gave them the up-and-in move," Walker said, "The linebacker wasn't fast enough to flip his hips and block me and I got through there clean and laid out.
"I just go out there and try to make plays. We've got a group of guys that fight every game. We're just competing out there. We just try to get to the ball and make plays."
But the Brady answered, capping off a classic two-minute march by hitting Graham on a four-yard touchdown pass to tie the score at 20.
After Houston failed to capitalize on its aforementioned good field position, the Patriots got the ball back at their 14. Brady completed 5 of 6 passes for 58 yards on the ensuing drive, moving the ball to the Texans 10, where Vinatieri made good on his second attempt to end the game.
The Texans next host Atlanta at Reliant Stadium.