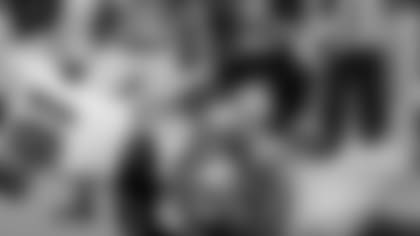 ]( "TE Owen Daniels")

The 2013 NFL Draft begins Thursday at 7 p.m. CT. Here's a position-by-position look at the Texans' roster on offense and potential need level at each spot on a 1-5 scale, with 1 being the lowest and 5 being the highest, entering the draft:
QBOn the roster:Matt Schaub, T.J. Yates, Case Keenum, Stephen McGeeDetails:Schaub is the Texans' unequivocal starter. Coach Gary Kubiak likes young backups Yates and Keenum. The Texans signed McGee in January. But Kubiak said at the NFL Scouting Combine that he's always looking for a potential franchise quarterback.
Need level (1-5 scale): 2
Draft prognosis: It's doubtful the Texans draft a quarterback in the first few rounds unless a highly-touted prospect falls to them. They could take someone late who they believe might develop into a long-term starter.
RB
On the roster:Arian Foster, Ben Tate
Review:Foster, a three-time Pro Bowler, signed a long-term contract in 2012. Tate, who missed five games last season after sitting out his rookie year with a broken ankle, enters the final year of his contract. Justin Forsett, the Texans' second-leading rusher last season, signed with the Jacksonville Jaguars.
Need level (1-5 scale):3
Draft prognosis: Kubiak and general manager Rick Smith typically don't use high picks on running backs, and it isn't a pressing need with Foster and Tate in the fold. But the Texans always carry three running backs and could use a mid-round pick on one this year.
WR
On the roster:Andre Johnson, Keshawn Martin, Lestar Jean, DeVier Posey, Jeff Maehl
Review:Johnson, a six-time Pro Bowler, is coming off his best statistical season, but he turns 32 in July. Long-time starter Kevin Walter was released in March. Jean and Martin, a 2012 fourth-round pick from Michigan State, have combined for two career starts and 16 catches. Posey, a 2012 third-rounder from Ohio State, tore his Achilles in the playoffs and could be out until midseason.
Need level (1-5 scale): 4
Draft prognosis: Most analysts expect the Texans to draft a wide receiver in the first round, something they haven't done since Johnson in 2003. If they don't, look for it to happen by the end of Round 3.
TEOn the roster: Owen Daniels, Garrett Graham, Phillip Supernaw, Jake Byrne
Review:Daniels, a seven-year veteran, is coming off his second Pro Bowl season. Graham, a fourth-round pick from Wisconsin in 2011, emerged last season with 28 catches for 263 yards. The Texans don't have another tight end on the roster with NFL game experience. Fullback James Casey often doubled as a tight end, but he's now with the Philadelphia Eagles.
Need level (1-5 scale): 3
Prognosis:The Texans were thin at tight end last season, and that was before Casey left in free agency. It seems likely they'll draft one at some point this weekend, possibly as early as Round 1 but more likely in the middle rounds.
OTOn the roster:Duane Brown, Derek Newton, Ryan Harris, Andrew Gardner, Nick MondekReview: The Texans are set at left tackle with Brown, a 2012 All-Pro who signed a long-term deal in 2012. At right tackle, Newton was a seventh-round pick in 2011 who started 14 games last season while rotating with Harris. Newton is coming off knee surgery and may not be ready for the start of OTAs. The Texans re-signed Harris and Gardner this offseason.
Need level (1-5 scale): 3
Prognosis: The Texans expect Newton to take a step forward after a baptism by fire in 2012. They could draft a tackle as early as the first round to compete with him, or wait until Friday or Saturday to address the position given their other needs and the depth behind Newton.
G/COn the roster:Chris Myers, Wade Smith, Ben Jones, Brandon Brooks, Cody WhiteReview:Center*Myers is a two-time Pro Bowler who signed a long-term contract in 2012. Left guard Smith made his first Pro Bowl last season, but the 10-year veteran is entering the final year of his contract. At right guard, Jones started as a rookie last season after being drafted to back up Myers. Brooks, another 2012 rookie, will likely push Jones for that starting job this season.
*Need level (1-5 scale):2
Prognosis: The Texans are in pretty good shape on the interior. Jones likely has the ability to line up at any of the three spots, providing insurance at left guard. This probably isn't a priority in 2013.
Twitter.com/NickScurfield