, Ala. -It was symbolic in a way that the North team took the field Monday for their first practice at the 2007 Under Armour Senior Bowl under cloudy skies and cool temperatures.
With many of the scouts and NFL executives in attendance struggling to keep warm, the weather seemed of little trouble for the players on the North team, largely made up of schools accustomed to such conditions.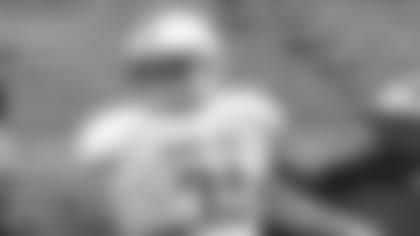 The artificial surface at Ladd-Peebles Stadium kept the practice relatively clean, despite intermediate rain. Tampa Bay Buccaneers head coach Jon Gruden and his staff, responsible for the North team this week, kept practice moving.
Many of the eyes Monday were on the quarterbacks.
, but judging from the analysis from a few scouts, some teams are questioning his decision making.
That was the tone Monday. The players here in
this week are among the best of college football, but now it's time to separate the good college athlete from an NFL prospect.
One North player that has seen his stock fluctuate for two seasons now is
State linebacker Paul Posluszny. By the end of his junior season, Posluszny, the 2005 Bednarik Award Winner (nation's top defensive player) was slated to go as high as the top-10.
However, a knee injury in the Orange Bowl made the decision to return to
for a senior year a little easier. Always the consummate teammate, Posluszny agreed to play middle linebacker this past season after dominating at weakside linebacker as a sophomore and junior.
The adjustment took some time and early in the season it appeared that his knee injury, which didn't require surgery, had slowed him. In reality, it was probably the position change that made him look a step slower on film.
It wasn't as if Posluszny struggled this past fall. In fact, he had the exact number of tackles (116) his senior season playing middle linebacker as he did as a junior, and he became the only
State player to ever record three consecutive seasons of 100 stops.
He picked up another Bednarik award as a senior, becoming just the second player to win the award twice. His laundry list of accomplishments in college is enough to fill a page, but that's now in his past.
He's turned his focus to the NFL, and with many scouts grading him out as a second-round selection, Posluszny is using his time in Mobile this week to try to boost that grade. He has no regrets about returning to school for his senior season.
"I'm going to do whatever I can to help my draft status out, but I don't regret going back at all," Posluszny said after practice Monday. "I needed a senior year to get a degree and get an extra year of football, so it's all going to all work out in the end."
And perhaps in a move to try to recapture that first-round status, Posluszny has moved back to weakside linebacker this week.
"I'm going to do whatever they want me to do," he said of the position change. "They told me to start working out at Will, so I'm going to do that for now and see how it goes."
He sounded as if he would play center if Gruden or the other coaches asked him to. In fact, Posluszny doesn't even have a preference of playing inside or outside.
"It depends on the defense," Posluszny said. "I really like what we're doing now in this scheme. I liked playing middle linebacker for
State, so we'll see what happens."
In shorts and shoulder pads Monday, Posluszny looked nothing like a player who had a knee injury, in fact he wasn't even wearing a brace.
"Oh yeah, it's been fine for a while now," he said when asked about his knee.
His solid work ethic is evident from just talking to him for a few minutes, and that's probably why he was selected to be one of three captains for Saturday's game.
"I don't know how they pick them, they just told us at our first meeting who the captains were," Posluszny said.
It probably won't be the last time Posluszny is named a captain during his football career.
News and notes:The North and South practiced simultaneously Monday, marking the only time this week that the teams will practice at the same time. For the rest of the week, the North team will practice in the morning at Ladd-Peebles Stadium and the South in the afternoon…Notre Dame quarterback Brady Quinn is in Mobile, though he's not participating in the game due to a knee injury…Former Miami coach Larry Coker has been out at practice, perhaps searching for a job in the NFL…Herm Edwards and Jack Del Rio were two NFL coaches that were in attendance Monday as well as several coordinators including former Texans head coach Dom Capers.