 Air it out:Saturday morning's team drill featured several passing plays down the field which drew loud ovations from the crowd. As one might expect, Andre Johnson was one of the culprits to get loose from the defense, but also making nice plays were Kendrick Starling and Derick Armstrong. The afternoon practice featured several nice plays by Eric Moulds, who displayed some nice speed on short patterns that found holes in the defense allowing Moulds to go the distance. Early in camp, it's easy to see that wide receiver will be a strength of the Texans this season.
Reviews are in:Gary Kubiak was an easy pick as the second head coach in Texans history, but he's not taking the warm welcome he has received for granted. He won over some fans Saturday morning by allowing the crowd to make its way over to field two to watch team drills. Typically, the crowd is asked to stay within the stands adjacent to field one.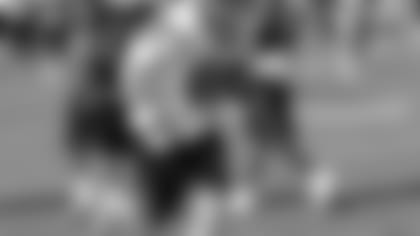 The players have taken a liking to Kubiak as well. As previously noted, the first-year coach is allowing non-rookies to stay at home with their families rather than the team hotel during training camp. Some members of the roster didn't need to be convinced that the long-time NFL assistant was ready for a head gig. One player who already had his mind made up on Kubiak was tight end Jeb Putzier. Putzier has been tutored by Kubiak his entire career and when the coach made the move to
, Putzier was not far behind. He has no doubt the Texans made the choice and didn't hesitate Saturday when asked if Kubiak was NFL head coaching material.
"Definitely," Putzier said. "I think that's going to shine through this season and the next few years. This is going to start to be a winning organization and I'm excited about that."
With the arrival of Kubiak and some key free agent additions, Putzier said that expectations are not just high with fans, but within the entire organization as well.
"I have high expectations as do the other players and the coaches," Putzier said. "Now we just need to get our confidence going. It's easy once you get down to revert to old ways. We can't do that. We need to push through and get better."
What was old is new again:Much has been made of the Texans' new defensive scheme. The 3-4 was not popular among the fans by the end of the 2005 season, but with a transition to a 4-3 defense,
some tough personnel decisions.
Suddenly, the team was loaded with linebackers designed to rush the passer. The good news is that two of those players have reverted to their old positions. Jason Babin and Antwan Peek were both defensive ends in college before shifting to linebacker spots in
's 3-4 alignment. Babin is extremely happy to be back to his defensive end roots and doesn't necessarily agree that he's making a transition from last year.
"Really, it's not a transition," Babin said. "It's more of returning home because I played defensive end in college and I was comfortable there. It feels natural."
Babin was forced to watch his weight last year. He's gained close to 20 pounds over the offseason, and he said it didn't take too much work.
"The situation last year was that my calorie level was so ridiculous," he said. "I'm still eating healthy (now), just a little bit more portion wise and a little more often. That and with lifting, it sort of naturally happened. It wasn't something that I was focused on, it was more that I wasn't focused on staying light. I feel good."
The coaches have put an emphasis on rotating the front four come fall, so Babin isn't too concerned about playing time at his new/old position. He's been in the league long enough to know that defensive ends need to stay fresh.
"From what the coaches are saying, we're going to be rotating a lot, which is a good thing," Babin said. "When you're playing defensive end, you're exerting so much energy, if you don't rotate, you're going to be dead."
Kick it to me:With Jerome Mathis being sidelined to start the season,
's special teams are going to need to find other playmakers. They might not have to look any farther than Phillip Buchanon. Buchanon looked good returning punts on Saturday underneath the bubble and said afterward that he hasn't been able to be the prolific return man that some predicted when he entered the league because he rarely gets a kick in his hands before the pursuit is in front of him.
"If I can get some teams to not kick the ball so high, I might get some good returns," Buchanon said. "It seems like ever since I've been in the league, I've had high kicks to deal with. I just want to do whatever I can to help the team. I want to be the best returner and the best corner."
Buchanon might have to make more plays defensively than first expected as well thanks to the news cornerback Demarcus Faggins got late Friday.
Injury Update: The Texans worst fears were realized late Friday as Faggins was diagnosed with a "Jones fracture" in his foot. A Jones fracture is a fracture of the fifth metatarsal of the foot which is a bone in the midportion of the foot. Pain is usually felt over the middle and outside area of the foot when the foot is injured. Faggins will be examined by Dr. Tom Clanton in the next few days with a surgery to follow to insert a pin to aid the heeling process. He is expected to be out six to 10 weeks.
Texans defensive backs coach Jon Hoke said Saturday that Faggins' injury should provide for quite the competition at the other cornerback spot opposite Dunta Robinson.
"It's an opportunity for other guys," Hoke said. "Phillip's going to get an opportunity (Lewis) Sanders is going to get an opportunity. Those guys playing behind Petey are going to get an opportunity. Now, it's about them taking advantage of the opportunity."
Buchanon said he was ready for the opportunity, though the news of Faggins' injury didn't change his goals for this season.
"I already had high aspirations for myself to begin with," Buchanon said. "I want to be the best, that's always been my top priority."
Robinson missed Saturday's afternoon workout with a sore ankle. He aggravated it during the morning session after "tweaking" it on Friday. It's not serious and Robinson is not expected to miss an extended period of time. Sam Cowart also took the afternoon off, but that is not news. Kubiak revealed Saturday morning that Cowart will only participate in morning practices for the most part during training camp.
"Sam's only going to go in the mornings," Kubiak said. "He's one of the veteran guys that know what's going on. He's key with the way he knows Richard's (Smith) defense."
's baby: Saturday was offensive line coach John Benton's first full day of training camp. Friday, he spent much of the day at the hospital with his wife, Nicole, as the couple welcomed their second child into the world.
Paige Caroline Benton was born Friday at 5:30 p.m. and was a healthy seven pounds, seven ounces. Paige joins Gabrielle, the