* Back in action:*Jerome Mathis joined the Texans on the field Monday for the first time during the team's fifth day of OTA workouts.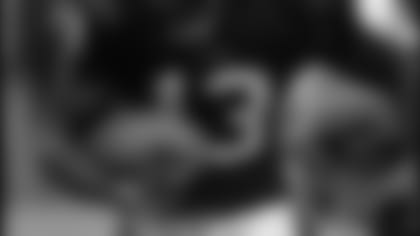 The Pro Bowl kickoff returner, who was injured in a motorcycle accident weeks ago, still is recovering from bruises and scrapes, particularly on his arms. He participated during special teams drills and also was active with the wide receivers, but it will be a few weeks before he reaches full speed again.
"I'm back out here practicing, ready to get back into it," Mathis said. "I'm a little rusty, but that happens."
Head coach Gary Kubiak was pleased to see Mathis on the field, but recognized it's only the first step in a lengthy rehab process. In the meantime, he expects Mathis to log some mental reps so that he doesn't lose any more ground, particularly on offense.
"He's a little hobbled," Kubiak said. "But he has some catching up to do from a receiver's standpoint. As I told you all along, it's important that he help this team as a wide receiver. I know he can return kicks, but he has to catch up as a wide receiver and help our football team in that capacity."
Last year, Mathis averaged 28.6 yards per kickoff and 13.0 yards per reception on five catches with one touchdown. He'll compete with newly acquired free agent Kevin Walter for the third wide receiver spot on the roster.
Kubiak expects Mathis to continue his role in the kicking game, but hopes that the former Hampton University star can contribute significantly on offense as well.
"When you have a great returner like himself, and he can help you in another spot on game day, that adds value to your team," Kubiak said. "And you have to have players on your team that can do that and play dual roles. That's what gives you flexibility on game day. I've told him that from the beginning."
Slow start:As far as the practice this morning, Kubiak voiced his displeasure with the team's offensive execution in the early stages of the workout.
"I was frustrated this morning because offensively I didn't think we came out here ready to practice," Kubiak said. "I thought defensively we had a good day. But that's part of football. If you come out here and that happens, your leaders have to take over and make sure your team practices well."
The team finished strong, and has nine more days of OTAs before mini-camp begins on Wednesday, June 7.
Rookie rising:With the release of quarterback Dave Ragone on Friday, rookie free agents Quinton Porter and Matt Baker moved up the depth chart.
That being said, Kubiak didn't rule out the Texans adding another veteran arm before training camp to compete with Porter and Baker, as well as incumbent David Carr and free agent acquisition Sage Rosenfels.
"You're never comfortable," said Kubiak, a former quarterback. "You'd like to have three guys that have taken snaps before. That's the situation we're in…I like what I see from Quinton (Porter) and Matt (Baker), but that doesn't keep us from looking for a veteran out there somewhere before we get to camp, because you never know. You're one injury away from having one guy with some experience. So that's something we have to address."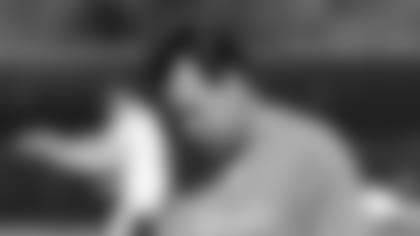 In Denver, Kubiak coached with only two quarterbacks in some instances, so he's prepared to do that in Houston if necessary.
"I feel really good about the two we've got, and maybe we go that way," Kubiak said. "It helps you to have another spot on our football team. It really just depends on how comfortable you are with them two."
Noted absence:Defensive line coach Bob Karmelowicz, perhaps the feistiest member of the Texans' coaching staff, was unable to attend today's workout because of dehydration.
Defensive line assistant Tracy Simien led the unit in Karmelowicz's place.
"He's going to be fine," Kubiak said of Karmelowicz. "It's going to take a couple of days, and that's why Tracy is here, to help Karm. He's got to be ready in this situation. Of course, (defensive coordinator) Richard (Smith) can move over there and work with the D-line. But that's part of our job. We understand these things can happen, and we have to keep playing and keep working. We'll get him back here in a couple days."