Carr found Bradford deep down the field in the first plays of seven-on-seven drills, lofting the ball over Robinson's head to a falling Bradford just before Marcus Coleman, who is making the switch from corner to safety, arrived to help.
Head coach Dom Capers has confidence his rookie starter will improve and was pleased to see a strike down the field so early in camp.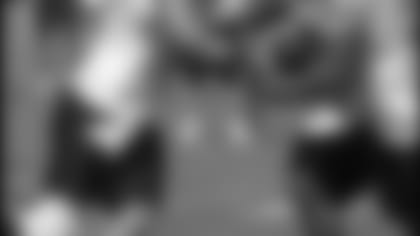 "It's something that we're putting a lot of emphasis on," Capers said. "We think we've got the speed, we know we've got the quarterback that can get it there. We need to make some more big plays down the field. So it's nice to come out here the first practice and see that happen because it didn't happen enough last year."
Left corner Aaron Glenn has total confidence in Coleman, who picked off seven passes last season as a corner.
"Pros can make a change from one position to the next and be able to go out there and play safety," he said. "There's no doubt in my mind that he can be the best safety in this league. It's up to him now. It's up to him and his mindset and he's got the mindset to go out there and be productive."
EASY DOES IT: Nose tackle Seth Payne took part in individual drills Saturday morning, but it will still be a few weeks before he takes part in training camp full-speed.
Payne tore his left anterior cruciate ligament Sept. 14. His rehab has progressed slowly.
"The stuff I was doing today is stuff I've been doing on my own," Payne said. "Over the next few days we'll start doing some reads with the defensive lineman, that will be more of a challenge. I won't be doing team probably for a couple of weeks. I feel like I could be doing team, but they're going to take it real slow with me."
Capers was pleased with Payne's performance, saying his participation will grow increasingly more involved.
RETURNING TO BUSINESS:The Texans set out to answer a burning question Saturday morning – who will help J.J. Moses in the return game?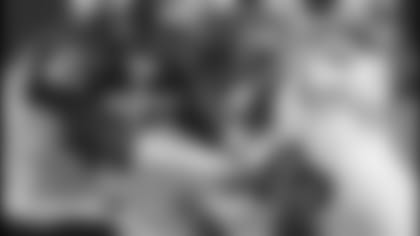 "It's your job now," Duff said of the transition from college to pro special teams. "That's how a lot of guys are going to make this team, by special teams. You have to work extra hard at special teams especially with the guys we've got at corner … you have to work extra hard just to get a job on special teams.
"I'm just ready to get in there and get tackled and play. You have to really get in there and feel it before you really get a feel for it."
SWITCHAROO: The Texans will shuffle their defensive line with the free agent arrival of Robaire Smith. Smith, who played tackle for four seasons at Tennessee will switch to defensive end in the 3-4 defense.
Smith led all Titans linemen with 73 tackles in 2002 and 2003.
He said the switch is going well.
"It's a little different, a little different technique," Smith said. "It's just a matter of starting to feel comfortable with it. Once I feel comfortable in it I'm quite sure I can do more in it."
HIGH EXPECTATIONS: Motivational signs hang all over the walls at Reliant Park, from a large checklist on building a winning franchise to simple pump-you-up sayings.
The result is a positive attitude that continues to find its way to the field.
"Our goal has been the same since the first time we stepped on the field and that's to prepare ourselves to go win," Capers said. "The only way that you do that is come out here everyday and you've got to set a high standard and you've got to make sure that you're working up to that standard."
QUOTABLE: Payne on reading his injury: "It's hard for me because my knees were always sore before I got hurt. One of the things that comes with weighing 320 pounds. It was hard for me to figure out sometimes if it was an obesity problem or an ACL problem."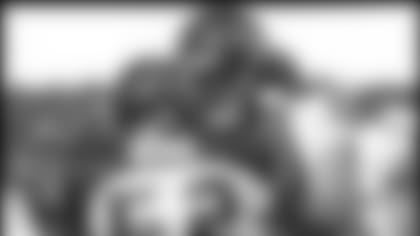 Capers on starting two rookies on defense: "One thing's for sure is that you ask a lot of these guys. They both have ability, but they've got work to do mentally. I think you can see signs of their ability. What they have to do is get their assignments and techniques down to where they're totally confident so that it doesn't force them to play tentatively."

UNDER THE LIGHTS:The Texans held the evening practice under the lights. It was the first practice of training camp in full pads. The team will continue to hold the second of two-a-day practices at night to take advantage of cooler temperatures.

THE OTHER FOOTBALL:Coaches from the Everton Football Club presented Capers with a team jersey after the evening practice. Everton, a member of England's Premier Soccer League, was in town participating in Copa de Tejas at Reliant Stadium.

Everton defeated Pachuca of the Mexican Premeir League 5-2 Thursday night. They will play Club America Sunday afternoon at Reliant Stadium.

*
*INJURY REPORT: All 91 Texans were on the practice field Saturday morning, but a few were limited.

Zach Wiegert (elbow), Glenn Earl (knee), Steve McKinney (hamstring) and Payne (knee) were held out of the evening practice.