GETTING ROWDY:More than 2,000 fans crowded into the Texans practice facility Monday night for the first practice open to the public.
And they made their presence known.
David Carr and Aaron Glenn jerseys dotted the landscape. Chants and cheers filled the air as fans got their first glimpse of the 2004 Texans.
The team wasted no time energizing the crowd. In one of the first drills of practice, running backs picked up blitzes from outside linebackers. Helmets clashed at full speed with more than one scuffle breaking out.
Rookie running back Jason Anderson was impressive, holding off linebacker Raheem Orr – a player more than 50 pounds heavier – twice during the drill.
THUNDER ROLLS:At 8:12 p.m. head coach Dom Capers ordered the team into "the bubble" as lightning and thunder threatened practice. The rain came a few moments later.

EVENING HIGHLIGHTS:Running back Domanick Davis broke through the right side untouched during team drills and made a couple of cuts before sprinting into the secondary. It was one of many impressive runs during the early part of practice.

HOT SPOT:The Texans continued installing the offense Monday morning, with one position battle emerging. Receivers Andre Johnson, Corey Bradford and Jabar Gaffney have taken the majority of reps as the top receivers.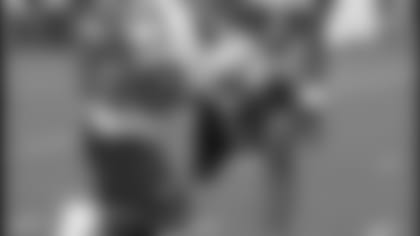 Behind those two, wait six receivers – three rookies and three with some pro experience.
It's unclear who will emerge to fill depth at those positions.
"Corey and Andre and Gaff, those guys have spots locked up so you're out here trying to make it by special teams," receiver Chris Taylor said. "That's the mentality you have to take in playing and work hard everyday."
Taylor played at Texas A&M before spending the spring in NFL Europe. He led the Amsterdam Admirals with 42 catches and five touchdowns. He is one of several receivers seeing time at punt return as well as on offense.
Seventh-round draft pick Sloan Thomas has also made noise in the first days of camp. Playing under Roy Williams' shadow at Texas, Thomas finished his college career with 1,362 yards and 12 touchdowns.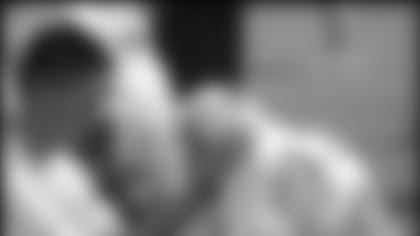 HIGHLIGHTS: **Andre Johnson continues to look good in his second training camp. Johnson didn't drop a ball in the morning practice and made a note-worthy diving catch on a slant pattern in seven-on-seven drills.
Tight end John Frieser also made a one-handed catch on an out route during seven-on-seven drills, reaching out with his right hand and hauling in a Dave Ragone pass and spinning around a tackle.
Frieser, a rookie, caught 30 passes for 401 yards and a touchdown last season at Colgate.
Defensive backs Dunta Robinson and Marcus Coleman were in the right position later in seven-on-seven drills, but that didn't stop Starling from pulling in one of the most spectacular catches of the morning.
Starling, an un-drafted rookie from San Jose State hauled in a deep ball from Ragone late in the period, falling backwards and cradling the ball as it sailed over the defenders head.
IT'S IN THE NAME:Center Luke Butkus has heard the same question countless times in his life. Yes, it's that Butkus.
Butkus' uncle is Hall of Fame linebacker Dick Butkus. Luke attended Illinois, like his uncle and spent 2003 training camp in San Diego before being signed by the Texans in June.
He started four games for the Rhein Fire in NFL Europe.
"These guys that either have an uncle of a father who played the game, everybody recognizes their name. A lot of people, that was back in their era, and of course everybody knows who Dick Butkus is."* *
QUOTABLE:Capers on players rebounding after a long first weekend: "I think they had the right attitude, the guys who have been through came with us a couple of years they know what we expect… I think their focus and attention has been good. Really that's the challenge of training camp. You have to come out here everyday and work to get better because these days go by fast."

Tight end Mark Bruener on the Texas heat: "I'll be honest with you, it is hot as blazes down here. I've never experienced heat like this. There was days I thought it was hot and humid in Pittsburgh and it does not hold a candle to what I'm experiencing here."

INJURY REPORT:Offensive lineman Zach Wiegert (elbow) returned to the practice field Monday morning and took part in some drills. Capers said the infection in Wiegert's elbow is still pestering him, so coaches are taking it slow. He did not practice Monday night.
Tight end Billy Miller experienced back spasms after Sunday afternoon's practice and sat out both practices Monday.
---
---
---