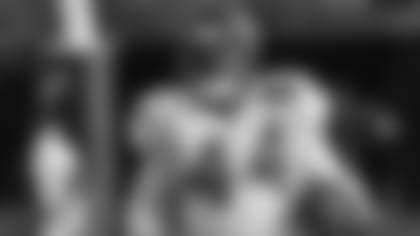 ]( "RB Ben Tate")

Ben Tate returned on Tuesday afternoon, participating in the afternoon walkthrough with his teammates at the Houston Methodist Training Center. Tate missed part of Friday morning's practice and all of Sunday and Monday's work, in addition to the Tuesday morning practice because of tightness in his groin.

He was with the club this afternoon and reiterated that he wasn't overly concerned about it.
Working as the starter while Arian Foster has been sidelined with a calf injury and sore back, Tate might still play on Friday night at Minnesota. But head coach Gary Kubiak said that if Tate doesn't start, undrafted rookie Dennis Johnson will.
"It will either be Tate or DJ," Kubiak said. "One or the other."
That decision will be crystallized a bit more based on what Kubiak sees from Tate's Wednesday morning work.
"I'm going to watch him practice in the morning," Kubiak said. "He'll be back on the field in the morning with all the indications I have and we'll go from there."
Johnson set Southeastern Conference records for kickoff returns (119) and yards (2,784) during his time as an Arkansas Razorback. He averaged 5.9 yards per carry and finished his collegiate career with 20 total touchdowns. 13 of those scores came on the ground and another three came via kickoff returns.
He's seen reps on special teams with the kickoff return unit, competing with Keshawn Martin and Alan Bonner.
Meanwhile, Kubiak was asked again about his plans for the quarterbacks' playing time against Minnesota. While he hasn't set his plans definitively, he elaborated on what he expects to do against the Vikings.
"My protocol has been play our starters for a little bit, for a series or two," Kubiak said. "Then to play our two's for a good quarter-and-a-half and then play our three's in the last quarter or quarter-and-a-half depending on how that goes."
He said Matt Schaub, T.J. Yates and Case Keenum would get playing time in that order. He also said that Stephen McGee would "hopefully" get some reps as well.
Twitter.com/DoughertyDrew
![](http://www.gopjn.com/t/R0BKR0dDR0BKRklJS0BISEtERw)