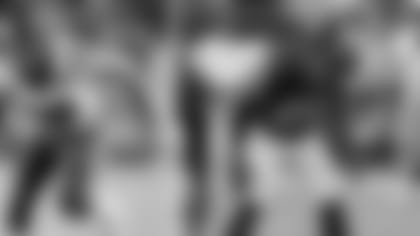 ]( "OLB Connor Barwin, FS Glover Quin")

INDIANAPOLIS – General manager Rick Smith and head coach Gary Kubiak made it clear on Thursday that the Texans want to re-sign free safety Glover Quin and outside linebacker Connor Barwin.
In back-to-back afternoon press conferences at Lucas Oil Stadium, site of the NFL Scouting Combine, Smith and Kubiak spoke positively about the two players, who will become unrestricted free agents if they don't re-sign with the Texans by March 12.
Smith was asked how high re-signing Barwin is on his list of priorities.
"It's high," Smith said. "It's high. I talk about all the time about our core players, and Connor certainly is a part of that. And we attempted to sign Connor last year. If you look back last year, last offseason, we did a lot of that. We signed our left tackle; we got Duane (Brown) done. We got our running back (Arian Foster) done. We got our quarterback (Matt Schaub) done. Even though Chris Myers made it to free agency, we were able to sign him back. We were unsuccessful with signing Connor, but that doesn't mean that he is any less important to what we're doing."
A second-round draft pick from Cincinnati in 2009, Barwin led the Texans with 11.5 sacks in 2011. He had just three sacks in 2012 but played 94 percent of the Texans' defensive snaps, more than any other player in the front seven. If the Texans don't re-sign Barwin, they would likely have a starting outside linebacker tandem of Brooks Reed, a second-round pick in 2011, and Whitney Mercilus, a first-round pick in 2012.
"The thing about this league at this point in time is that you've got to continue to draft well, you've got to continue to develop players, because the possibility that you could lose players is a real one, and that's just a function of the salary cap system that we're in now," Smith said. "And we understand that, but we certainly place a high value on Connor. His contribution to our football team, not only on the field but in the locker room, in the community, he's a top-notch guy. We'd love to keep him."
Quin said after the season that he wanted to stay with the Texans and was "pretty optimistic" something would get done. A 2009 fourth-round pick from New Mexico, he led the Texans with 85 tackles in 2012 and had 14 passes defensed and two interceptions. A former cornerback, he has started 60 of 64 games in four seasons. He has a team-high 247 tackles since 2010.
"First off, he's not only a heck of a player for us, he's a leader in our locker room in what we do; class act," Kubiak said. "He played very well for us, so it's very important. Rick and I have talked about it, talked about it as a staff. Obviously, we want him to continue to be there for our football team. We've got to go through the process and all those things, but he's very important to what we're doing."
If the Texans don't re-sign Barwin or Quin, it could have a big effect on their plans in the 2013 draft.
Twitter.com/NickScurfield