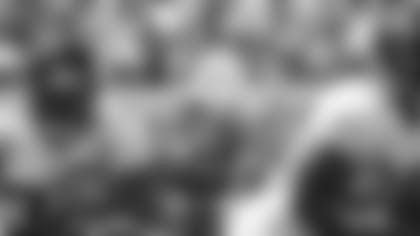 ]( "Greg Jones (right)")

Jacksonville Jaguars free agent fullback Greg Jones visited the Texans on Tuesday, according to multiple reports.
Jones (6-1, 265), 31, is regarded as one of the best blocking fullbacks in the NFL. The eight-year veteran has never been to a Pro Bowl but helped Jaguars running back Maurice Jones-Drew lead the league in rushing in 2011. He also blocked for Fred Taylor earlier in his career.
Jones-Drew was clearly upset Wednesday by the possibility of Jones leaving. In 2010, Jones-Drew told the Florida Times-Union that Jones was "hands down, the best fullback in the league. When he blocks, people move out of the way for him."
The Texans lost starting fullback James Casey to the Philadelphia Eagles in free agency. They cut fullback Lawrence Vickers after one season with the team in 2011 and allowed Pro Bowl fullback Vonta Leach to sign with the Baltimore Ravens in 2010.
John McClain of the Houston Chronicle first reported Jones' visit on Tuesday morning. McClain also reported that the Texans were hosting Tyrann Mathieu, the LSU defensive back who is projected to be a third- or fourth-round pick.
Twitter.com/NickScurfield