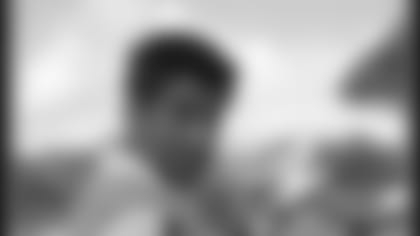 LB Jason Babin is used to hauling around pads on the field, but the empathy belly is a whole other story.
Texans head coach Dom Capers, linebacker Jason Babin and defensive end Robaire Smith dropped in to Channel 13's "Caring Cradles Baby Shower" Friday morning. The community-wide baby shower runs from 6 a.m. to 6 p.m. in the KTRK studio parking lot where donations of baby diapers, bath items, gift packs, food, new or gently used baby items, clothes, bedding or furniture are being collected.
Proceeds from the event will benefit the March of Dimes, who will distribute the items to those less fortunate and in need of care during pregnancy. The annual event is held to heighten awareness about the importance of pre-natal care for expectant mothers.
The Texans group took part in the collection with an appearance on live television where they spoke about the significance of good pre-natal care. Capers, Smith and Babin also joined host, Don Nelson, in a diaper-changing competition to test their speed at wrapping diapers.
Babin was the big winner, wrapping his baby's diaper at lightning speed, all the while wearing an "empathy belly" to get a first-hand taste of what it feels like to be pregnant.
"I just hope he can get to the quarterback as quick as he changed that diaper," Capers laughed.