** Fans To Vote For Winner On NFL.com and Via Sprint Wireless Service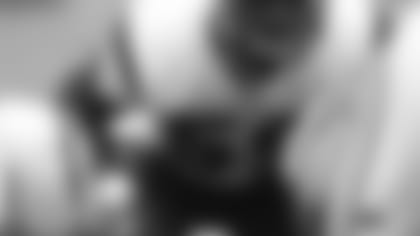 Running back* *Joseph Addai of the Indianapolis Colts, wide receiver Marques Colston of the New Orleans Saints, defensive end Mathias Kiwanuka of the New York Giants, linebacker DeMeco Ryans of the Houston Texans and safety Ko Simpson of the Buffalo Bills are the finalists for Diet Pepsi NFL Rookie of the Week honors for games played on Nov. 5-6, the NFL announced today.
Fans can vote for one of these five players by clicking**here**.Voting ends Thursday at 5 p.m. EST.  The Diet Pepsi NFL Rookie of the Week will be announced Thursday evening on NFL.com.

In addition, for the second year, NFL fans may cast their votes for the Diet Pepsi NFL Rookie of the Week using phones with Sprint wireless service - an opportunity available only to Sprint customers. This fast, convenient voting method involves texting the wordPEPSI to short code7777. Sprint customers will then receive an interactive text message that links fans to the ballot with the five finalists each week. Data and text messaging rates may apply.
After the regular season, five players will be nominated for Diet Pepsi NFL Rookie of the Year honors.  Fans can vote for the winner on NFL.com and via Sprint wireless service throughout the month of January.  The winner will be announced at a press conference at Super Bowl XLI in South Florida.

A closer look at the finalists:
· Indianapolis' Joseph Addai carried 18 times for 43 yards and one touchdown in the Colts' 27-20 victory over the New England Patriots.  Addai scored on a two-yard touchdown run to put
in front 14-7 in the second quarter.  He has two rushing touchdowns this season.
' Marques Colston caught 11 passes for 123 yards and one touchdown in the Saints' 31-14 victory over the Tampa Bay Buccaneers.  Colston, whose 15-yard touchdown reception gave New Orleans a 7-0 lead, is tied for the NFL lead with seven touchdown receptions and ranks fourth with 700 receiving yards this season.
· TheNew York Giants' Mathias Kiwanuka recorded seven tackles and one sack in the Giants' 14-10 victory over the Houston Texans.  Kiwanuka has started the past two games for the Giants and registered a sack in both of them.  Against
, his fourth-quarter sack helped the Giants get the ball back for their game-winning drive.
· Houston's DeMeco Ryans recorded 10 tackles and one sack in the Texans' 14-10 loss to the New York Giants.  Ryans led the Texans in tackles for the game and also leads the team for the season with 73 tackles through eight games.  In addition, the rookie linebacker has 2.5 sacks.
touchdown that sealed the win.