Just 24 hours removed from yesterday's overtime battle against Minnesota, Texans head coach Dom Capers re-hashed the fabled story Monday afternoon about a team who fought back, overcame a 21-point deficit and showed true character in an uphill battle against the league's top offense.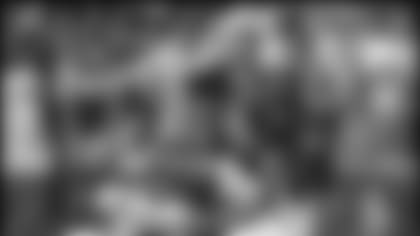 Capers nailed it when he named the Texans Week 5 bout "A Tale of Two Halves."
Dissecting the Texans 38-24 overtime loss is almost like studying two different games. In the first contest, Houston was only able to muster five first downs and 105 yards on just 18 offensive plays. Minnesota controlled the play clock for 20:33 minutes, accumulating 238 yards in the process.
In the second showdown which began right after halftime, the Texans offense out-gained the Vikings by almost 100 yards and out-scored the unit 28-14. Houston's run defense also began to plug up more holes, limiting the Vikings' backs, led by Mewelde Moore, to just 28 rushing yards in the second half compared to 89 in the first which included a 17-yard Moore run in the first quarter.
The Texans strong second-half performance trend began against the Chiefs, when quarterback David Carr was able to lead the offense to 18 points in the final 30 minutes of play to come from behind for the Texans first win of the season.
Then last week against Oakland, Houston's defense had its best showing of the game in quarters three and four, holding the Raiders offense to zero points while the Texans offense was able to post 13 and take a 30-17 commanding win.
"Over the last two weeks, we've outscored our opponent 41-14 in the second half and we've been outscored 17-31 in the first half," Capers calculated. "We have to come out and start faster. A year ago, we were a fast starter and a slow finisher. This year we've been a slow starter and a fast finisher so we have to find that happy median in between."
The Texans were prepared for Minnesota's potent offense and knew it was imperative to keep the score close early on. Unfortunately, that wasn't the case as the Texans found themselves huddled up in the locker room at the half victims of a 21-0 first half shutout.
Having spent only just over nine minutes on the field in the first half, the Texans had five three-and-out series. The lethal combination allowed Minnesota's offense multiple opportunities to gain ground quickly.
"We knew going into this game yesterday that this was going to be a difficult game and that we couldn't let them keep reloading their guns because they've got too many bullets in that game," Capers said.
Though Houston let the Vikings' weapons shoot them in their collective feet, the squad rebounded and gave the Reliant Stadium fans some ammo of their own.
"From (being down by 21 points) on, I thought our guys did a tremendous job," Capers said. "I thought they showed a lot of heart and competitiveness. I haven't been around too many games where a team has been that far down and they've battled back to give ourselves a real legitimate chance to win the game."
Immediately putting the pieces together on both offense and defense is a major point of focus during this week's preparations for Tennessee. Along with a sense of urgency, Capers said he expects the team to improve tackling on defense and kickoff return coverage on special teams.

But heading into the sixth week of action, Capers does see tremendous upside in both performance and attitude of his Texans squad.

"You can give into it, let it cripple you and you can get down and warped," Caper said about facing adversity. "Or you can battle back and fight through it and become stronger. I really believe this about this team. I don't think anybody can question the heart and competitiveness of this football team."
Houston's offense proved that its high-powered passing game can be almost impossible to defend when Carr clicks with his targets. Two 100-yard receiving performances from Andre Johnson and Derick Armstrong, including three combined touchdowns were turning points in the game and the unit only hopes to continue growing more contagious with each week.
"When number 80's out there and we make eye contact, there's a good chance that I'll throw him the football," Carr said after the game about Johnson's affect. "It instills confidence when you throw a ball up to a guy and he goes and jumps 15 feet in the air and pulls it down. You'd probably throw it to him.
"He's playing with a lot of confidence and it's something everyone else feeds off of. The other wide receivers made big plays – they all feed off of that. They see him make some plays and they go and make plays, and the whole offense gets some energy. That's kind of what enabled us to get back in the game and tie it up."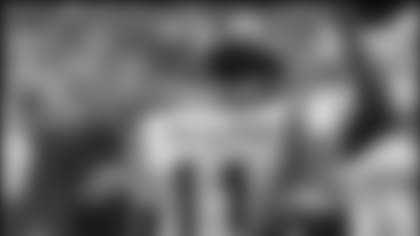 The defense also benefited from a little locker room rejuvenation yesterday. Defensive end Robaire Smith and linebackers Kailee Wong and Jason Babin benefited from the aggressive blitz package, each tallying a sack while cornerback Dunta Robinson had an active day with four passes defensed and picked up a share of near run-ins with Daunte Culpepper.
Before traveling to Houston, the Vikings had punted just five times in their first three games. But the Texans defense forced Minnesota to punt on eight different occasions throughout the contest including four critical fourth-quarter punts that allowed the Texans offense to tie up and preserve the game at 28 a piece.
The unit did give up four big plays, two 50-yard touchdown catches, a 29-yard Randy Moss snag and on the ground, Moore's 17-yard jaunt.
"We had done a decent job in terms of limiting the big plays up to that point in time," Capers said about Culpepper connecting with Moss and Marcus Robinson in the second half. "We didn't get any takeaways. There is a significant difference in our third down defense in the first half and the second half. We were much, much more effective in the second half."
The team will regroup in all areas this week during practice and in the meeting rooms. But first the Texans will complete their Monday Night homework assignment by watching the Titans (1-3) and Packers (1-3) game in preparation for this weekend's road trip to Tennessee, the Texans first AFC South Divisional matchup.
Todd Wade will be listed as doubtful for Sunday's game in Tennessee after suffering a high ankle sprain during the fourth quarter yesterday.
David Carr will also see limited practice time this week to rest his sprained ankle. Capers said Carr will sit out of action on Wednesday and Thursday and take the bulk of his passing repetitions on Friday.
Gary Walker re-aggravated a groin injury and was forced to watch from the sidelines during the second half against the Vikings. Walker said that his MRI this morning didn't show anything too serious and that he would monitor his progress throughout the week on a daily basis.
"Yeah, I'm pretty sure," Walker said about participating in practice. "I'm going to be smart. If it feels like I can practice, I'll go practice and if it feels like it needs more time, I'll take more time. I'll just communicate with (the Texans coaches and medical staff) and like I said, I don't think it's serious."