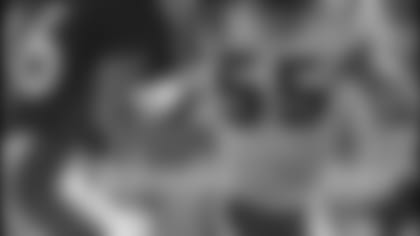 Sharper is once again leading the Texans in tackles with 102 through nine games. He has also has two sacks, two forced fumbles and a fumble recovery, which he returned for a touchdown against Oakland.

Sharper, who went to "The University" (as Virginia grads like to call it), led the entire NFL in tackles last season. You can help stuff his Pro Bowl ballot here.

This week Sharper welcomes his younger brother, Packers free safety Darren, to Houston. Jamie answered your questions Wednesday after practice ([ ](http://play.rbn.com/?url=nfl/nfl/open/2003/texans/demand/sharperqanda111704.rm&proto=rtsp)). ](http://play.rbn.com/?url=nfl/nfl/open/2003/texans/demand/duntaqanda102704.rm&proto=rtsp))
**WR Jabar Gaffney** ([ ](http://play.rbn.com/?url=nfl/nfl/open/2003/texans/demand/gaffneyqanda.rm&proto=rtsp))
**LB Kailee Wong** ([ ](http://play.rbn.com/?url=nfl/nfl/open/2003/texans/demand/qanda092204.rm&proto=rtsp))
**WR Andre Johnson** ([ ](http://play.rbn.com/?url=nfl/nfl/open/2003/texans/demand/andreqanda081804.rm&proto=rtsp))