For all of his speed, there was one footrace Andre Johnson wasn't going to win.
Johnson, the third overall pick in the 2003 NFL Draft, couldn't possibly be the fastest first-round draft selection to sign with the Texans. After all, Houston quarterback David Carr inked his contract before the first day of the 2002 draft had even concluded.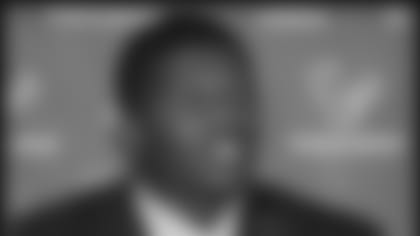 Johnson is the sixth 2003 first-round pick to sign.
But it was imperative to get Johnson to camp on time, both for him and the Texans, whether it was a few days or a few minutes before the club hunkered down for training camp.
The Texans announced Tuesday that they have signed Johnson, the prolific wide receiver out of Miami. Johnson will report for camp Thursday along with the rest of his teammates.
"We're thrilled to have Andre in camp on time," Texans general manager Charley Casserly said. "Andre made a commitment to us back when we drafted him that he would be here for training camp and he followed through with it."
The Texans are now two for two in getting first-round picks signed before camp. Johnson picked up the offense quickly during the club's mini-camps but a full slate of training camp practices will be crucial in his development as a receiver, not to mention his timing with Carr.
"Andre certainly has the athletic talent," Texans head coach Dom Capers said. "He's big, he's strong and he's fast. And he's been picking up things quickly in the classroom, he's done a nice job there. That has helped him gain confidence."
While Johnson has been working on the football side of things, his uncle, Andre Melton, has been helping him with the business side of the equation. Johnson parted ways with agent Jeff Moorad and hooked up last week with UM law professor Don West. The change didn't affect the ultimate goal and Johnson is just glad to have the negotiations behind him. Now he can devote his full attention to learning Houston's offense.
"I'm very excited that I was able to get this contract done and get into camp on time," Johnson said. "That was one of my biggest things coming in.
"I've seen some of my former teammates from college not make it to camp on time and I didn't want to follow suit. When you are not in camp on time, you tend to miss out on a lot. I didn't really want to miss out on anything."
         The
         Texans now have three draft picks left unsigned -- tight end [Bennie
         Joppru](), linebacker [Antwan
         Peek]() and quarterback [Dave
         Ragone]().