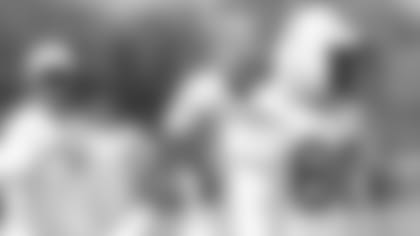 ]( "WR Andre Johnson")

The Texans will begin their voluntary offseason program in less than three weeks.
Workouts begin on April 15 at Reliant Stadium. Organized team activities (OTAs), non-contact practices at the Methodist Training Center, are on May 20-21, 23 and 28-30 and June 3-6. Spring practices conclude with a mandatory mini-camp from June 11-13.
Attendance at the Texans' offseason workouts and 10 OTAs is not mandatory but is typically 100 percent. Last year, Texans coach Gary Kubiak allowed approximately 25 veterans, mostly starters, to rest during mini-camp.
OTAs will be the first chance for free agent signees such as Ed Reed, Shane Lechler and Greg Jones to practice in a Texans uniform. They also will give the Texans a first look their rookies, including whomever they draft at No. 27 overall in the first round on April 25.
Texans inside linebacker Brian Cushing (knee) and wide receiver DeVier Posey (Achilles) are not expected to participate in OTAs because of injuries. Cushing should be ready for training camp and the start of the season. Posey may not be healthy until midseason. Right tackle Derek Newton (knee) is a question mark for OTAs after having offseason surgery.
Per the Collective Bargaining Agreement, each team's official, voluntary nine-week offseason program is conducted in three phases:
Phase One consists of the first two weeks of the program with activities limited to strength and conditioning and physical rehabilitation only.
Phase Two consists of the next three weeks of the program.  On-field workouts may include individual player instruction and drills as well as team practice conducted on a "separates" basis. No live contact or team offense vs. team defense drills are permitted.
Phase Three consists of the next four weeks of the program.  Teams may conduct a total of 10 days of organized team practice activity, or "OTAs".  No live contact is permitted, but 7-on-7, 9-on-7, and 11-on-11 drills are permissible. Each team also may hold one mandatory minicamp during Phase Three.
Twitter.com/NickScurfield