 Once the Texans hired Gary Kubiak as head coach in January, everyone had high hopes for an offensive resurgence under the architect of the Denver Broncos' famed zone-blocking scheme.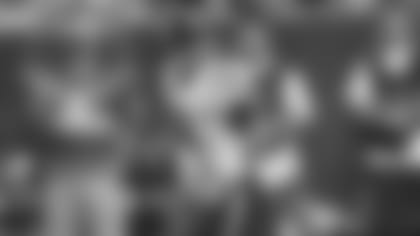 In the Texans' preseason debut Saturday night at Reliant Stadium, none of the 70,016 fans left disappointed as Kubiak's offense set a club preseason single-game points record in a 24-14 defeat of the Kansas City Chiefs. Perhaps more importantly, the team did not allow a single sack, and its three total rushing touchdowns equaled the sum rushing touchdowns from the Texans' previous four preseasons combined.
Not to be outdone by their counterparts, the Texans' defense set a franchise-preseason record by allowing only 172 total yards of offense. Defensive coordinator Richard Smith's unit also picked off a pass, recovered a fumble and collected five sacks.
"I like how hard we played," Kubiak said. "I thought we were still pretty sloppy at times. I think the coaches probably needed this preseason game more than anybody. I expected (the players) to play hard, and they did." 
Rookie running back Wali Lundy starred on offense with a game-high 59 rushing yards and a touchdown, while quarterback David Carr completed three of five passes for 23 yards in one quarter of play.
"I expected him to play pretty good," Kubiak said of his sixth-round pick. "He handles himself like a professional. He's had a great camp and nothing is too big for him. I was pretty impressed with him."
Lundy set the tone early with a 30-yard return on the opening kickoff. 
From the Houston 38, Carr quickly went to work with an 11-yard reception to wide receiver Eric Moulds on first down. They reconnected on the second play from scrimmage for an eight-yard gain. Chad Stanley punted, though, after running back Antowain Smith was stuffed on third-and-one from the Chiefs' 42-yard line.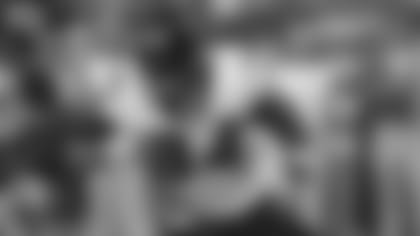 After the Chiefs' offense went three-and-out, Lundy returned Dustin Colquitt's punt 12 yards to the Houston 35. Smith rushed for five yards on second down before Moulds was stopped short for a four-yard gain a play later. After a timeout, Kubiak decided to go for it, and after fumbling the snap, Carr dove ahead for a first down.
Five plays later, from the Chiefs' 41-yard line, Lundy rushed 25 yards off the right tackle on third-and-seven. He finished off the 13-play, 65-yard drive with a three-yard touchdown run. Kris Brown's extra point gave the Texans a 7-0 advantage with 3:36 remaining in the first quarter.
Kansas City bounced back by mounting a 13-play drive for 71 yards over 7:12. Quarterback Trent Green completed four passes for 26 yards, and running back Larry Johnson fought his way for six yards on 26 carries. Running back Dee Brown capped the series with a 12-yard touchdown run to help even the score at seven with 11:26 left in the game.
On the Texans' third series, quarterback Sage Rosenfels replaced Carr behind center, and most of the team's second unit took the field. Rosenfels led the offense on a six-play, 20-yard drive that stalled when wide receiver Kevin Walter was stopped a yard short of the first down marker on a five-yard catch to the Houston 47.
On the ensuing Kansas City possession, defensive end N.D. Kalu sacked quarterback Casey Printers for an eight-yard loss, leading to the Chiefs' second punt of the game from their 25-yard line.
With 6:08 left in the first half, wide receiver Derrick Lewis caught a nine-yard pass to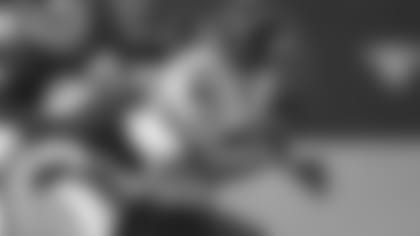 the Houston 45 on first down. Rosenfels completed his second pass on a play action bootleg to rookie tight end Owen Daniels, who made a 15-yard reception two plays later. 
Rosenfels, who was four for four on the series for 37 yards, rushed five yards for a touchdown three plays later to give the Texans a 14-7 lead with 1:53 remaining in the first half.
Running the two-minute drill, Printers led Kansas City to the Houston 29 on one rush for 16 yards and three completions for 20 yards. But he was penalized for intentional grounding on his final pass attempt, which ended the first half after the mandatory 10-second runoff.
After the Chiefs punted on the opening series of the third quarter, the Texans mounted their fifth drive of the game and went three-and-out for the first time.
The Texans' offense quickly returned when Printers stumbled on his dropback and was sacked for a nine-yard loss by defensive end John Chick, who forced a fumble. Defensive tackle Earl Cochran recovered the ball on the Kansas City 22 for the first takeaway of the game with 11 minutes left in the third quarter.
Seven plays and 18 yards later, Brown nailed a 22-yard field goal to put the Texans ahead 17-7.
Kansas City was forced to punt on their second consecutive possession after Printers was sacked for a six-yard loss by defensive end Jeff Charleston and linebacker Troy Evans on third-and-two- from the Chiefs' 35-yard line.
With 3:59 left in the third quarter, following the Stanley's fourth punt, Kansas City's offense began at their nine-yard line. Colquitt soon returned, though, after Printers' third down pass fell short.
A 19-yard punt return by rookie wide receiver David Anderson set up solid field position for the Texans at the Kansas City 42. Chris Taylor's three-yard gain on fourth-and-one from the 33-yard line gave Houston another set of downs. Four plays later, from the 22-yard line, Brown attempted a 40-yard field goal that missed wide right at the beginning of the fourth quarter.
The Texans' defense recorded its second takeaway moments later when safety Kevin Curtis stepped in front of Printers' throw at the Houston 29.
Replacing Rosenfels, rookie quarterback Quinton Porter quickly completed a 13-yard pass to wide receiver Derick Armstrong on his third play from scrimmage. Four rushes for 12 yards by Taylor, and a 15-yard pass from Porter to Armstrong, gave the Texans a first down on the Kansas City 20.
The Texans stretched their lead to 17 points after rookie Damien Rhodes' four-yard touchdown run, which was set up by rookie Richie Ross' 14-yard catch.
Kansas City cut the lead to 24-14 on a one-yard rushing touchdown by Quentin Griffin with 1:57 remaining in the game. The play was set up by Anderson' fair catch fumble on the Houston 13.
After an onside kick recovery by the Chiefs was overturned because wide receiver Jeff Webb's foot was out of bounds when he caught the ball, the Texans ran out the clock on three plays to record their first preseason win since Aug. 20, 2005 against the Oakland Raiders.