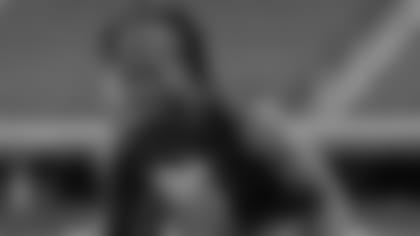 ]( "Oregon State WR Markus Wheaton")

INDIANAPOLIS –The Texans are widely expected to select a wide receiver early in the 2013 NFL Draft, but they might not have to do so in the first round to land an impact player.
This year's wide receiver class is viewed as deep and not necessarily top-heavy. Tennessee's Cordarelle Patterson is expected to be the first receiver off the board and go somewhere in the top-15 picks. After that, there's a long list of talented wideouts who could go anywhere from late in the first round – where the Texans pick at No. 27 overall – to the second or third round.
"I think most of the value for the wide receivers in this class is towards the bottom part of the first round and into the second round," NFL Network draft analyst Mike Mayock said on Sunday at Lucas Oil Stadium.
Even Patterson is viewed as a bit of a wild card after playing just one year at the FBS level as a JUCO transfer. Other receiver prospects who could go in the first round include West Virginia's Tavon Austin (5-8, 174), an all-purpose dynamo with outstanding quickness who ran the 40-yard dash in 4.34 seconds, and Cal's Keenan Allen (6-3, 212), who didn't work out at the NFL Scouting Combine because of a knee injury but was compared favorably by Mayock to Anquan Boldin.
Among the other top receivers in the draft are Baylor's Terrance Williams (6-2, 205), who had 1,832 yards and 12 touchdowns on 18.9 yards per catch in 2012 and ran a 4.52 40 at the Combine; Louisiana Tech's Quinton Patton (6-0, 204), one of the nation's leading receivers in 2012 who had a strong showing against top competition at the Senior Bowl; USC's Robert Woods (6-0, 201), a three-year college starter whose production dipped as a junior but is viewed as a likely second-round pick; and Tennessee's Justin Hunter (6-4, 196), who tore his ACL in 2011 but had a big 2012 season and impressive Combine with a 4.44 40, 39.5-inch vertical jump and 11-4 broad jump.
"I think for (the Texans), the value's gonna be pass on it in the first round, because there's so much depth at the position," NFL Network draft analyst Daniel Jeremiah said Sunday in an interview with Texans TV. "Just hold your water, get to that second and third round; I really believe you can find upgrades to their roster in those spots."
If the Texans want to take a receiver in the second or third round, they could end up with any of the players listed above or the likes of Tennessee Tech's Da'Rick Rodgers (6-2, 217) and Clemson's DeAndre Hopkins (6-1, 214), two big-bodied receivers who ran in the 4.5s at the Combine.
Jeremiah likes Oregon State wide receiver Markus Wheaton (5-11, 189) as a potential target for the Texans after the first round. Marshall's Aaron Dobson (6-3, 210) is another player Jeremiah mentioned as a possibility in the second or third round.
"You can get a value there, somebody that's ready to plug in and play right now," Jeremiah said. "There's a handful of those guys out there. So it doesn't make as much sense (to draft a receiver in the first round) unless maybe a Cordarelle Patterson will fall into your lap, who's just kind of an athletic freak. Outside of that, I think you just wait."
Most mock drafts have the Texans taking a receiver in the first round to find more help for Andre Johnson, but they might be in position to nab one in the second or third and use the 27th pick on the best player available.
Twitter.com/NickScurfield