 Texans players and coaches sent 200 children home with a bicycle and a big smile on their faces Wednesday afternoon. Children from The Boys and Girls Club of Greater Houston, The Boys and Girls Club Country, DePelchin Children's Center, Shape Community Center and Child Protective Services met the Texans outside of the Methodist Training Center after practice to receive their gifts.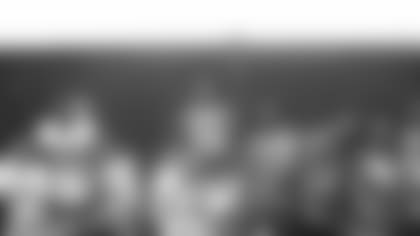 "This is great," rookie linebacker DeMeco Ryans said. "This is a great time of the year and this is awesome to come out of practice and see these kids enjoying their bikes that we were able to provide for them. It's just a blessing to be in a position to make kids happy."
The bicycles were purchased with Texans donations from Academy Sports and Outdoors. When the children arrived at the Methodist Training Center, they found 200 blue and purple bicycles lined up waiting for an owner.
"An event like this means a lot to our organization," Everett Curl, a representative from The Boys and Girls Club, said. "We have over 100 kids that will receive bicycles, and that's a good percentage. We're taking care of eight of our Boys and Girls Club locations and we have 13 across the city of Houston, Galveston and Texas City. This is going to be great for our organization."
Following practice, Texans players and coaches made their way out of the indoor facility and lined up to see the children rush to pick out their bicycles.
"It's exciting, first of all, because I've never seen 200 bikes lined up like this," defensive backs coach Jon Hoke said. "But to see kids have joy in getting something they wanted for Christmas, it's good and it makes you feel good because here you've got kids who don't have some things and we were all able to allow them the opportunity to get something that they wanted."
The faces of everyone in attendance reflected the bliss conveyed by the children's happiness.
"It's so neat that you can have the opportunity to help out like this, especially this time of the year, to see the excitement in the kids' eyes when they had the chance to go and pick out a bike," tight end Mark Bruener said. "It's something that maybe they wouldn't have gotten this holiday season, and it's really special, it's really neat."
The players quickly made their way toward the children to mingle and even give them bike-riding tips. Wide receivers Andre Johnson, Eric Moulds and David Anderson took it a little further and hopped on some bikes to show the children how they ride.
Texans owner Bob McNair and his son, limited partner Cal McNair, also were present during the giveaway.
"It's just really nice to see the kids' excitement of having a bicycle for Christmas," Cal McNair said. "I always wanted a bike for Christmas myself, so I understand their joy. It's fun to be part of a group of guys that will go out and put the money and give these kids the joy they wouldn't otherwise have for Christmas."
The Texans always are looking for new ways to give back to the community that supports them throughout the year, but this event was solely made possible thanks to the donations from players and coaches. Bob McNair gave all the credit to the character of the players and coaches.
"The players and coaches are the ones that did this, and so I'm really proud of them for doing it," he said. "I think that they're enjoying seeing the smiles in these children's faces. I'm proud of them for doing it."