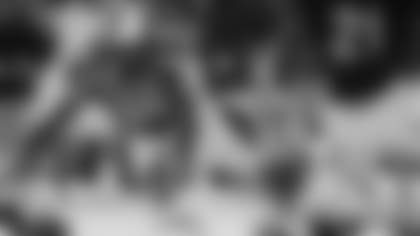 ]( "S D.J. Swearinger")

The Texans selected South Carolina safety D.J. Swearinger with the 57th overall pick in the second round of the 2013 NFL Draft.
Swearinger (5-10, 208) was a three-year starter and team captain as a senior at South Carolina. Regarded as one of the hardest hitters in the draft, he played both safety spots during his Gamecocks career.
"D.J. Swearinger is very athletic in the mold of safeties that we like," Texans defensive coordinator Wade Phillips said. "He can play the strong safety or free safety. He can cover a slot guy if you need him to. He's very versatile that way. He's smart, tough, aggressive, all the things you're looking for."
The Texans do not have an established third safety on the roster after letting Quintin Demps walk in free agency. Former starter Glover Quin left in free agency for the Detroit Lions and was replaced by nine-time Pro Bowler Ed Reed.
"He's a big hitter," Phillips said. "He's a tough, physical player, but he has good range. He can play free safety – he's got great range overlapping – or he can play strong safety and get in the box. He also fits in your sub package. That's what G.Q. (Quin) played for us, when the sub-package is playing over the tight end and being able to play the running game too. He fits well in there. We played that at least 50 percent of the time, so it's almost like adding a starter."
Swearinger ran the 40-yard dash in 4.67 seconds at the NFL Scouting Combine. He had a 37-inch vertical jump. A native of Greenwood, S.C., he started 12 games as a senior, earning second-team All-SEC honors. He had 79 tackles, two interceptions with a 69-yard touchdown, a team-high seven pass breakups, two forced fumbles and two fumble recoveries with a 65-yard touchdown.
Swearinger started all 13 games as a junior and ranked second on the Gamecocks with 80 tackles. He started eight games as a sophomore with 66 tackles after appearing in all 13 games as a freshman.
"I take a whole lot of pride in being physical," Swearinger said. "Since I was little, it's been a strong part of my game to be a physical force in the middle and to control the middle. I think I've done a great job of that, and I'm just ready to take my game to a whole other level and get to the biggest level of football."
Texans 2013 draft picks
Round 1, Pick 27 (27 overall): WR DeAndre Hopkins, Clemson
Round 2, Pick 25 (57): S D.J. Swearinger, South Carolina
Round 3, Pick 27 (89)
Round 3, Pick 33 (95) (Compensatory selection)
Round 4, Pick 27 (124)
Round 5, Pick 27 (160)
Round 6, Pick 27 (195)
Round 6, Pick 33 (201) (Compensatory selection)
Round 7, Pick 27 (233)
Twitter.com/NickScurfield