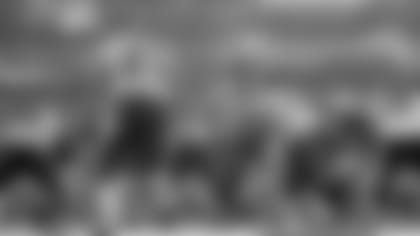 INDIANAPOLIS – The Texans lost 28-16 to the Indianapolis Colts at Lucas Oil Stadium on Sunday, finishing the regular season 12-4 and squandering a chance to clinch home-field advantage throughout the AFC playoffs.
With victories by the Denver Broncos (13-3) and New England Patriots (12-4) on Sunday afternoon, the Texans fell from the first to third seed in the AFC. They will play the Cincinnati Bengals (10-6) at Reliant Stadium next weekend in the Wild Card round.
"Disappointed," Texans coach Gary Kubiak said after the game. "We had a really good week. I thought we were ready to go... It's disappointing."
The Texans scored just one touchdown and three field goals on six trips inside the Colts' 30-yard line. Quarterback Matt Schaub was sacked a season-high four times and threw two interceptions. Houston was penalized nine times for 64 yards.
"We've been poor for about five weeks (in penalties)," Kubiak said. "We're splintered in a lot of places. We do something good in one area and we do something poor in another."
The Colts (11-5), who were locked into the No. 5 seed in the AFC, did not rest any starters in coach Chuck Pagano's emotional return from leukemia. They led 14-6 at halftime. The Texans scored next on a 13-yard touchdown run by Arian Foster and took their first lead, 16-14, on a 37-yard field goal by Shayne Graham with 5:22 remaining in the third.
That lead lasted all of 12 seconds. Indy's Deji Karim returned the ensuing kickoff 101 yards for a touchdown, darting untouched through the middle of the Texans' coverage unit. The Colts then went ahead 28-16 with 11:22 remaining in the fourth quarter on a 70-yard touchdown pass from Andrew Luck to wide receiver T.Y. Hilton on third-and-23.
"We've got the momentum going with us; we can't give up a play like that as a defense," Texans defensive end Antonio Smith said. "We've got to get to the quarterback or knock the pass (down). Whatever it takes, that's what we have to find (a way) to do at that moment. And at that moment, they had the right play at the right time and made it."
The Texans looked poised to answer on their next drive after a 38-yard kickoff return by Keshawn Martin. Schaub completed three consecutive passes for 41 yards to the Indy 30-yard line. Two plays later, Schaub overthrew Andre Johnson down the left sideline and was picked off by cornerback Vontae Davis in the end zone with 9:46 remaining. The Colts ran out the remainder of the clock with a 15-play, 63-yard drive. Chants of "Chuck-Chuck-Chuck" filled Lucas Oil Stadium in the closing minutes.
Johnson had 12 catches for 141 yards in the loss. Foster had 16 carries for 96 yards and a touchdown. Defensive end J.J. Watt had four tackles for loss but did not have a sack, leaving him two shy of the NFL single-season sack record.
The Texans were 5-of-11 on third down (45 percent) but allowed the Colts to convert 9-of-15 (60 percent). They did not force any turnovers. Early in the second quarter, Watt and linebacker Connor Barwin sacked Luck and forced a fumble that Whitney Mercilus recovered at the Indianapolis 14, but the play was overturned after officials determined that Luck's hand was going forward as the ball came loose.
The Colts took a 7-0 lead on the game's first possession with a one-yard touchdown pass from Luck to tight end Coby Fleener, capping a 13-play, 75-yard drive. The Texans cut the deficit to 7-6 early in the second quarter with field goals of 51 and 37 yards by Graham.
Colts running back Vick Ballard scored a one-yard rushing touchdown with two minutes left in the first half, six plays after Schaub was picked off by Davis for the first time. The Texans scored on their first two possession of the second half before their next three drives ended in a three-and-out, missed 52-yard field goal and interception.
Twitter.com/NickScurfield