The Texans remain winless at Baltimore's M&T Bank Stadium after suffering their first loss of the season. Even with Ed Reed's return, Houston was unable to comeback for a third-straight week for the win, falling to the Ravens 30-9 on Sunday.
Mistakes marred Houston's loss in which Baltimore scored on a pick-six and punt return. The Texans had 14 penalties for 113 yards.
"We were in the type of game that I thought we would be in," head coach Gary Kubiak said. "It was a 6-3 game, with five or six minutes left in the first half, and in a four-play sequence we give up 14 points. That's where the game turned. And then you're playing catch up all day long. I'm very disappointed; the biggest disappointment is in discipline. That's my responsibility; we had 14 or 15 penalties."
Matt Schaub and the Texans offense struggled without All-Pro left tackle Duane Brown, who did not make the trip due to a toe injury. Matt Schaub was sacked three times for a loss of 24 yards. Schaub was 25-of-35 for 194 yards and one interception.
"It was a poor read on my part," Schaub said. "I made a bad decision, and the guy made a good play. I should have just checked down and thrown to one of my backs. It was a huge turnaround coming right before halftime. We were in a tough, hard-nosed game versus a good opponent, and we can't make mistakes like that."
Randy Bullock was a perfect 3-for-3 on field goal attempts, connecting from 27, 29, and 47 yards.
Andre Johnson, who had five catches for 36 yards on the day, left the game in the third quarter with a shin injury. DeAndre Hopkins led the receivers with six catches for 60 yards.
Arian Foster rushed for 54 yards on 12 carries. Ben Tate added 36 yards on nine carries.
Joe Flacco, who was without starting running back Ray Rice, was 16-of-24 for 171 yards but was without a touchdown in the win. Rice's absence went relatively unnoticed as Bernard Pierce rushed for 65 yards and one touchdown. The Ravens special teams and defense contributed 14 points in the second quarter.
"Baltimore has a great defense," Ed Reed said. "The defense has always been great around here for a long time. Like I told the guys coming into this game, defensively, they're going to know every move that you're making. It's just about execution as players. We have to go out there and execute the game plan that we put together. We have to be disciplined about it, we have to be smart about it and make the plays when they come to you."
The Texans defense kept Baltimore scoreless in through the first quarter, forcing three-and-outs on the first two possessions.
"We need to start taking the ball away," J.J. Watt said. "We have to force turnovers and create take-aways. I thought we played pretty well in the first half, but once we got behind, we needed to create turnovers."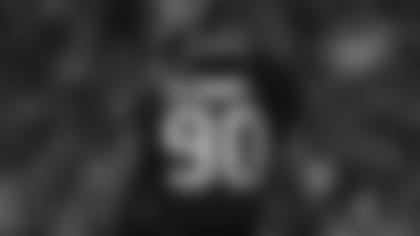 news
Breakfast: Jadeveon Clowney No. 32 on Top 100
Jadeveon Clowney makes his second consecutive appearance on the NFL Top 100 Players list.