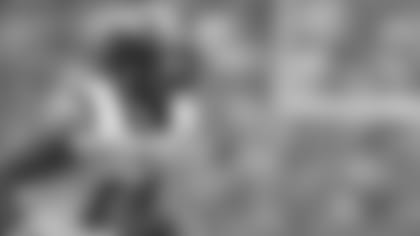 ]( "WR Alan Bonner")

The Texans finished their 2013 NFL Draft with four picks in the sixth round on Saturday.
They selected San Jose State tackle David Quessenberry (176th overall), Jacksonville State wide receiver Alan Bonner (195th), Bowling Green defensive tackle Chris Jones (198th) and Connecticut tight end Ryan Griffin (201st).
Texans general manager Rick Smith traded up to select Quessenberry at No. 176 overall, sending the 184th pick in the sixth round and 233rd pick in the seventh to the Oakland Raiders. Quessenberry (6-5, 302) was a three-year starter at left tackle at San Jose State. He was first-team All-WAC in 2012.
"(We) really had a guy that was rated high on the board and felt like we wanted to go and make a move to get him," Smith said. "I think his versatility and his athleticism fit what we do. (I) like the make-up. I think you will like him as a man as well."
Bonner (5-10, 193) ran a 4.59 40-yard dash as the NFL Scouting Combine. He averaged 17.4 yards per catch on 114 career receptions at Jacksonville State, with 20 touchdowns. He also returned punts and kickoffs.
"He can really run, comes out of a break excellent, big-time ball skills, he can return," Texans coach Gary Kubiak said. "There will be every chance to help this football team."
Jones (6-2, 302) was the 2012 MAC Defensive Player of the Year with 12.5 sacks. He is the first defensive tackle drafted by the Texans since Earl Mitchell in the third round in 2010. Jones was a two-time team captain at Bowling Green and started 43 games. Smith lauded his "tremendous effort" and production.
"I believe I have a motor that doesn't stop," Jones said. "I hate being blocked. I don't like it when people get their hands on me, so I'll do whatever I can get hands off. I just love playing football, and I think I just have a feel when we're on the field for finding the football."
Griffin (6-6, 247) ran a 4.90 40-yard dash. He was a four-year starter at UConn, with at least 23 catches in each season. Kubiak said picking Griffin was a product of his pre-draft visit to Reliant Stadium.
"We knew a lot about him – we studied him, we liked him," Kubiak said. "He came in, was very impressive to us on his visit. We think he's on the come as a player. He made a lot of progress during that last year. He's going to have to make some more, but we feel like he can do that. He catches the ball very well, runs well, but he's got the big frame to get on the line on scrimmage and play against these big linebackers we play against and defensive ends week in and week out."
Texans 2013 draft picks
Round 1, Pick 27 (27 overall): WR DeAndre Hopkins , Clemson
Round 2, Pick 25 (57): S D.J. Swearinger , South Carolina
Round 3, Pick 27 (89): T Brennan Williams, North Carolina
Round 3, Pick 33 (95): DE Sam Montgomery, LSU
Round 4, Pick 27 (124): OLB Trevardo Williams, Connecticut
Round 6, Pick 8 (176): T David Quessenberry, San Jose State
Round 6, Pick 27 (195): WR Alan Bonner, Jacksonville State
Round 6, Pick 30 (233): DT Chris Jones, Bowling Green
Round 6, Pick 33 (201): TE Ryan Griffin, Connecticut
*Compensatory selection
Twitter.com/NickScurfield