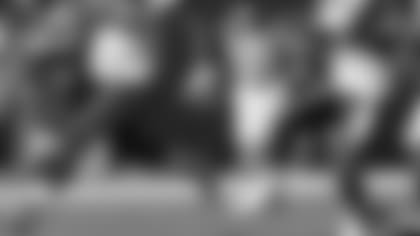 We're talking, of course, of
's four interceptions Sunday in its improbable win over the Jacksonville Jaguars at Alltell Stadium. Perhaps what's more surprising than the fact that the Texans managed to take a season sweep over the Jaguars, a team many predict to make a playoff run, is the manner in which the Texans dispensed of their AFC South rival.
's offense score on its first two possessions for the first time all season, it was instead the defense that stole the show Sunday collecting four errant David Garrard passes, tying a franchise record for interceptions in a game.
Saturday morning. Monday morning they woke up with six.
"The ball just bounced our way today," linebacker DeMeco Ryans said. "We've been fighting for turnovers, but it didn't happen for us. When they come, they come in bunches."
It was Ryans who helped start the pick parade. With
's fourth play from scrimmage.
Ryans got a piece of Garrard's arm and the ball popped into the air where
corralled it for his first career interception.
"DeMeco supplied the pressure and I was dropping back into zone coverage,"
said. "There was only one thing I was thinking about and it was getting that ball. That's what I did and then everyone started to get in on it."
"It meant a lot (getting his first interception), but I think there's a lot more to come down the road."
Three drives later Garrard was victimized again, this time by Faggins, who collected his first interception of the season and his second career pick against the Jaguars, a team that knows Faggins all to well after returning an interception for a touchdown in a Texans' win on Battle Red Day in 2004.
"It's always good to get turnovers," a smiling Faggins said. "We have to continue to do that. And not just against
Next up was Weaver, who slipped into zone coverage on a blitz and collected the first interception by a defensive lineman in Texans team history. It was Weaver's second of his career. Ironically, his first was against current Texans quarterback Sage Rosenfels when he was a member of the Miami Dolphins in 2004.
"I'll probably put this in the trophy case next to the one I got from Sage," Weaver said with his prize resting in a locker behind him. "I've been dropping back a lot lately so I thought I would get one."
's last interception of the day was the most important. With Jacksonville driving, down 13-3 in the fourth quarter, Garrard sent a pass into the endzone and connected, but to Robinson instead of intended receiver Ernest Wilford in what turned out to be a game saving play with the Texans eventually escaping with a three point win.
"I was playing inside (and he) gave me the stick outside, and I didn't go for the outside move," Robinson said. "I turned right up under him and the ball was coming at that time. He tried to put his hands in there to knock the ball down. We needed to make a big play, and like a lot of people say, big-time players make big-time plays in big-time games. And I had to step up and make a play, and that's what I did."
The truth is no one should really be surprised by the defense's effort Sunday. It's was just another in a string of fine performances. By shutting out the Jaguars in the first quarter Sunday, the Texans allowed zero points in the first quarter for the fifth time in their last six games.
The opportunistic defense also allowed
to dominate the time of possession. While
had trouble putting points on the scoreboard after their first two possessions, it wasn't as if the offense was going three-and-out every series either.
The Texans held the ball well over 37 minutes Sunday, 15 minutes more than the home team, by far the biggest disparity in a Texans win this season.
The defense held the Jaguars to just 16 first downs, five less then what
amassed. The Texans also ran 80 offensive plays, 25 more than the Jaguars thanks to a defense that allowed the Jaguars five or less plays on eight-of-11 series in what is just another sign of how the Texans have put their tough start to the season defensively in their rear view mirror.
"I think it just took a little time for us to gel," Ryans said. "We're all accountable to each other now and we know where everyone is going to be. We're in tune now."
At 3-6, and with their first game at home in a month coming Sunday against the Buffalo Bills, Houston's defense might be in tune just in time to lead the Texans to one of their finest years in franchise history.