ORCHARD PARK, N.Y. -It was a wild day at Ralph Wilson Stadium as 72,677 Bills fans saw Texans WR Andre Johnson haul in four catches for 122 yards while Kris Brown hit two field goals and their own Travis Henry rushed for 149 yards on 23 carries. In the end, Houston was able to travel home with a 12-10 win, while Buffalo was not able to score an offensive touchdown for a third consecutive contest.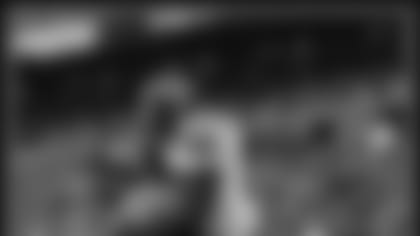 In a game filled with sloppy play and mutual mistakes, it was Buffalo who was able to capitalize first as former Houston LB Jeff Posey took QB David Carr down to the end zone turf. Posey's sack knocked the ball loose from Carr's hands and Bills DT Sam Adams dove to recover. Texans LG Todd Washington was able to push the loose ball out of Adams' clutches and out of the end zone to save a Buffalo touchdown as the Bills took a first quarter 2-0 lead. The hit sent Carr to the locker room with a bruised right shoulder, keeping him on the sidelines for the remainder of the contest.
The Texans defense was initially able to keep Drew Bledsoe's offensive troops out of the end zone with stingy play while Houston LB Kailee Wong recorded his second sack of the season when he brought Bledsoe down for a five-yard loss.
But the Bills' safety seemed to give the squad a momentum boost as their offense marched down the field on the ensuing possession. Their scoring quest quickly stalled on the Houston 11 and kicker Rian Lindell was called in to boot a 29-yarder. Lindell's attempt sailed wide left though, giving the Texans possession at their own 19 with QB Tony Banks taking over the offensive reins.
Banks' first series in the pocket resulted in a Chad Stanley punt, giving Bledsoe another stab at an end zone appearance. The Texans' defense didn't make the Bills' run that easy as they were forced to rely on Lindell again to light up the scoreboard. But Lindell again placed the ball to the left of the upright from 44 yards out, missing his second field goal in the first half.
The Texans' offense wasn't able to cross the half-way plane of the field on their next try and Stanley's punt placed the Bills at their own 7. Two plays later, Henry broke free on a 65-yard run to put the Bills within scoring range at the Houston 15. Henry left the field shaken up and Bledsoe had to find a way into the end zone without his main playmaker. Bledsoe picked up two yards, but on 3rd and 4, his end zone pass to WR Sam Aiken fell incomplete and Lindell came in to split the uprights from 23 yards out to give the Bills a 5-0 lead.
Houston answered with a late first-half 73-yard scoring drive that took just 55 seconds. RB Domanick Davis picked up three yards on the ground before hauling in catches of 13 and 16-yard gains. Banks found Johnson down the middle at the Buffalo 35 and Johnson added another 11 yards as he scampered into the end zone to give the Texans a 6-5 lead on an impressive 46-yard score, his third of the season. On the extra point, Bryan Pittman direct snapped the ball to Wong who attempted to pick up an extra two, but the conversion failed.
The Texans were able to keep the Bills offense from putting any addition first half points on the board with the help of Shantee Orr's 10-yard sack. Orr recorded his first career sack while playing in his first-ever NFL game to help Houston preserve a one-point lead after 30 minutes of play.
The Texans maintained their pace into the third quarter after a 27-yard Johnson gain and 15-yard personal foul penalty against the Bills set up Brown's 41-yard field goal to extend Houston's lead to 9-5.
But the Bills' defense made up for the points when CB Antoine Winfield picked off Banks intended pass for Johnson and returned it 11 yards to put Buffalo in great field position at the Houston 20. Bledsoe hit TE Mark Campbell for a six yard gain to the one yard line but on Henry's next carry, Texans SS Eric Brown pushed him back for a one-yard loss to force a 4th and 2. The Bills opted for a 20-yard Lindell field goal to put the score at 9-8.
The Texans punted on the ensuing drive and Houston's defense prevented Buffalo from scoring to give its offensive counterparts the ball back with under nine minutes remaining in the game.
Davis picked up 18 yards on the ground before WR Corey Bradford and Johnson chipped in with seven and 32-yard catches respectively. But the Texans weren't able to punch in for six and Brown kicked a 34-yard field goal to extend Houston's lead 12-8 with just over three minutes remaining.
In what may've been Houston's most crucial defensive play, LB Jamie Sharper collided with Bledsoe on the Houston 31 for a seven-yard sack while knocking the ball out of Bledsoe's throwing hand. Orr recovered to put the ball back into the hands of Houston's offense, which ran the clock down to three seconds.
The Texans lined up in punt formation and Johnson fielded the snap, running for a minus-34 yards and a safety to ensure a 12-10 Houston victory, its second road win of the season.
The win lifted Houston to 4-6 on the season, matching the squad's 2002 win total while Buffalo dropped its fourth consecutive game.
Banks finished the day completing 11 of 16 passes for 207 yards, one touchdown and one interception for a 106.2 passer rating. Bledsoe competed 15 of his 26 attempts to accumulate 184 yards and no interceptions.
On defense, the Texans saw impressive play from Sharper, who led the unit with 12 tackles, one sack and two forced fumbles while Orr made his NFL debut with one tackle, a sack and a fumble recovery. Also impressing on special teams was LB Steve Foley whose first quarter double-tackle on both Antonio Brown and Nate Clements on a lateralled punt return exchange resulted in negative return yards.