The Texans Outreach Tour hit the open road for an action-packed tour around the great state of Texas. This year's tour kicked off Monday, May 10, in Beaumont and Corpus Christi and extended to 10 more cities.

2004 Texans Outreach Tour (May 10-16)
* * Outreach Tour Slideshow


Monday
The Houston Texans kicked off their third Outreach Tour Monday, May 10 in Corpus Christi. SS Eric Brown and LB Anthony Dunn, Texans Cheerleaders, and TORO stopped at the Corpus Christi State School. The group then headed across town to sign autographs at Academy Sports & Outdoors.

Another group invaded Beaumont on Monday. LS Bryan Pittman and C Jamal Powell, more Texans Cheerleaders, and TORO popped in at CHRISTUS St. Elizabeth Hospital and the Boys & Girls Club. The group then signed autographs at Academy Sports & Outdoors.

Tuesday
Texans offensive weapons' RB Tony Hollings and WR Derick Armstrong will join TORO and the Texans Cheerleaders for a day in Tyler. The group will meet patients from the East Texas Medical Center and finish up their evening signing autographs at Foley's on S. Broadway Street.

Wednesday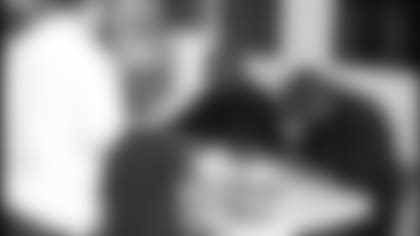 Demarcus Faggins and Ramon Walker took their defensive powers to the Conroe YMCA before autograph signings at Academy Sports & Outdoors and Fox and Hound.

A large group of Texans players including Aaron Glenn, Moran Norris and Antwan Peek visited the Kingwood Village Estates in Kingwood, Lake Houston Family YMCA and Academy Sports & Outdoors in Humble.
* *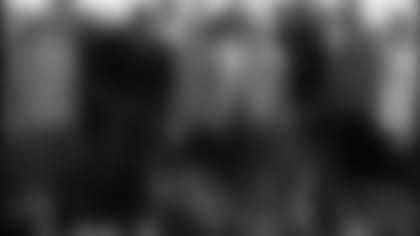 And over to the West, Marcus Coleman and Corey Bradford, along with Texans Cheerleaders Mary and Ginger, spent 24 hours in Lubbock, Texas, home of Coleman's alma mater, Texas Tech. The group set out Wednesday morning for the Red Raiders' football facility where they were welcomed in for a tour and visit with currect Tech football players.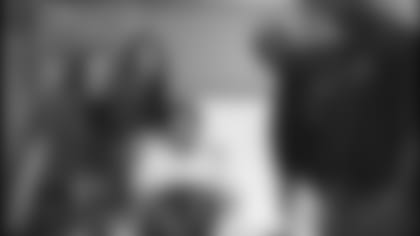 After Coleman re-lived his glory days, the group spent the afternoon with the spirited children of Covenant Children's Hospital. Smiles were shared and laughter could be heard throughout the hospital corridors as the children received surprise visits from the Texans group.

The day in Lubbock wrapped up with an autograph session at Academy Sports & Outdoors.

**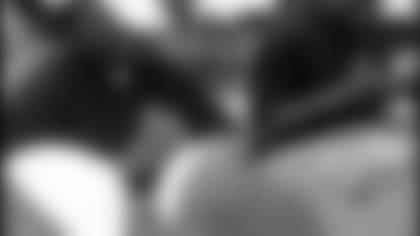 Thursday
FB Jarrod Baxter and WR J.J. Moses and the Cheerleaders hopped in the Texans RV and sped off toFort Hood where they were invited to eat breakfast on the military base. After dining with the troops, the group was able to test out the state-of-the-art helicopter simulator and finished off the day with an autograph signing.
Then it was off to the next stop,College Station. Baxter and Moses met with the children of the area Boys & Girls Club and finished their two-city stop with autograph signings at College Station's Academy Sports & Outdoors and The Tap.

Friday
FB Moran Norris and OT Chester Pitts had a busy day inAustin. The two were joined by TORO and the Texans Cheerleaders as guests of the Greater Austin Sports Authority Luncheon. Next stop was the Children's Hospital and Austin Children's Shelter. The crew was slated for autograph signings at Academy Sports & Outdoors and Aussies Volley Bar & Grill.

Saturday
InSan Antonio, DE Corey Sears and G Fred Weary visited a local Children's Shelter and were then greeted by the friendly faces of CHRISTUS Santa Rosa Hospital. The players and cheerleaders then made their way to Academy Sports & Outdoors and Sherlock's Pub for an autograph signing.

Sunday
LB Shantee Orr, OT Seth Wand and the Texans crew of cheerleaders and TORO wrapped up the week-long Outreach Tour with a trip to Shriner's Hospital inGalveston**. The group hit up Academy Sports & Outdoors and Fisherman's Wharf for autograph sessions, capping off a successful excursion throughout the state of Texas.

Thanks to all Texans fans throughout the state who welcomed the organization into their cities!