](http://www.houstontexans.com/news/index.cfm?page_type=sub&cont_id=192048)**COOL HEAT:** With the heat index the lowest it has been
         during the entire training camp, the Texans practiced in relative
         comfort outside during both the morning and night practices. However, 

the intensity was as high as ever with the Texans big game against their heated rival, the Dallas Cowboys, approaching quickly on the horizon.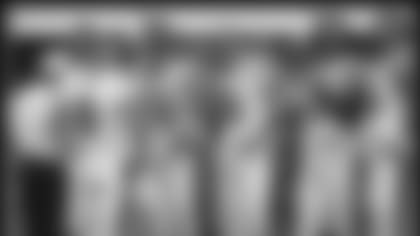 Capers rallies his troops during training camp practice.
"We need a good tempo and we need to get ready to go to Dallas and play a lot better than what we have," head coach Dom Capers said. "Friday night will be a good test for us. I'm interested in seeing how much progress our offensive line has made since we scrimmaged (the Cowboys) two weeks ago."
The coaches have started to incorporate team-specific training into their practice sessions. This week, they have worked against some of the Cowboys' sets, as well as studied the Miami Dolphins' system to a lesser extent. As training camp progresses, the coaching staff will gradually increase the amount of time they spend during practices preparing for their upcoming opponents.
KEEPING HIS HEAD UP: Injured Texans safety Travares Tillman could easily hang his head and mope around during training camp. He entered training camp with a legitimate shot at being a starter this season, but after breaking his forearm in the Dallas Cowboys scrimmage, he will now have to watch from the sidelines for at least another couple of weeks.
Instead, Tillman is excited to be out on the practice field with the rest of his teammates trying to learn as much as he can and make the best out of an unfortunate situation.
"I'm just trying to stay in it mentally, hearing the calls, going through checks in my head, stuff like that," Tillman said. "It's tough because I thought I was playing pretty well before I got hurt."
Tillman, who remains remarkably optimistic and upbeat, began rehabilitation yesterday to strengthen his wrist and increase the range of motion in his arm.
BATTLING IN THE TRENCHES:The Texans offensive and defensive line went head-to-head during today's practice. In a full-contact drill, the offensive line worked on technique and exploding off the ball, while the defensive line concentrated on shedding off blocks.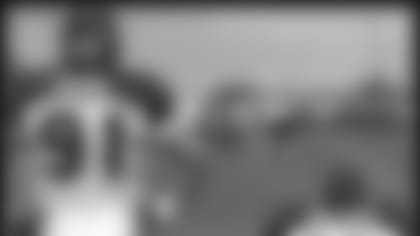 Payne and Jerry DeLoach watch from the sidelines intently during training camp practice.
With both defensive line coach Todd Grantham and assistant offensive line coach Steve Marshall emphatically barking out orders, it was difficult to tell which unit was doing better.
"I think I did all right," Randall said. "I can always get better. (Payne and Walker) are both big, strong guys. All you can do is just stay low and try to get a stalemate."STAYING THE COURSE: Cornerback Aaron Glenn continues to rehab his sore hamstring, which caused him to miss the opening scrimmage against the Dallas Cowboys as well as the Texans first preseason game versus the Denver Broncos. Nevertheless, Glenn is improving each day and remains upbeat.
"I'm not frustrated at all," Glenn said. "I'd be frustrated if it wasn't getting better. It is feeling pretty good. I'm just going to continue to rehab and continue to get myself feeling better."
During today's morning practice, Glenn jogged a bit and did a lot of stretching with a trainer. Just to be safe, the coaches have decided to let Glenn rest instead of risk further injury in Friday night's game.
HOPING FOR THE BEST: With Tillman out of action for a few more weeks, Texans coaches are that much more concerned about the injury to free safety Matt Stevens' right knee. Stevens had an MRI done today and will know the results tomorrow afternoon. The Texans rotated cornerback Jason Simmons to the free safety slot Wednesday and he's likely to start there versus the Cowboys.
These players did not participate in today's practice: RB Domanick Davis (hand), DT Howard Green (knee), FS Matt Stevens (knee), LB Troy Evans (groin), RB Jonathan Wells (left toe), TE Bennie Joppru (groin), LB Jimmy McClain (knee), OG Fred Weary (left leg), C Steve McKinney (knee), OG Ryan Schau (infection), OG Ed Ta'amu (PUP-knee), S Travares Tillman (forearm).