PREPARATION WEEK: With their Friday night defeat against the Cowboys behind them, the Texans hit the practice fields with renewed vigor and increased urgency this hot afternoon.
Only three practices remain before training camp breaks, and the Texans have little time to prepare for their upcoming preseason contest versus the San Diego Chargers this Saturday night. It will be the Texans last home game until their regular season home opener against the Kansas City Chiefs on Sept. 21.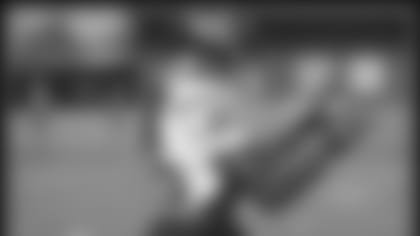 Corey Bradford reaches for the ball during drills.
For the Texans starters, Saturday's game against the Chargers will be their last quality opportunity to prepare for the beginning of the season. To avoid further injuries before their first regular-season game at Miami, Texans head coach Dom Capers does not plan on playing the starters too much against the Tampa Bay Buccaneers in their last preseason contest.
"This is going to be a week where we will play our starters the most of any of the preseason games," Capers said. "We'll look forward to seeing what kind of improvement we can make this week in the Chargers game."
As you might expect, Capers wasn't thrilled with what he saw in Dallas.
"We're capable of far better than what we showed Friday night," Capers said. "After looking at the tape, you can see the pieces are there. We just haven't put it all together in terms of being able to go out and put together and consistent performance."
BACK ON THE FIELD: Rookie running back Tony Hollings had his first taste of the NFL on Friday night against the Cowboys, when he led the Texans with 14 carries for 45 yards. It was also Hollings' first game action since he tore the ACL in his right knee against BYU on Sept. 21, 2002.
At times during training camp, Hollings has been slowed by inflammation in his right knee. However, on Friday night, Hollings' knee appeared to be doing well. With a 10-yard scamper in the second half, Hollings gave the Texans fans and coaches a small glimpse of his potential.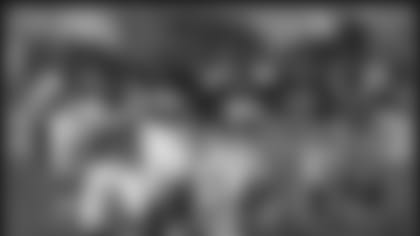 Hollings has shown his Texans teammates and coaches his toughness and speed during his rookie camp.
"I was encouraged," Capers said. "It was his first NFL competition from a game standpoint. You saw him kind of grow as the game went on. It is easy to forget that he had the ACL injury and this is his first action back in a game. I thought he ran hard and you could see the potential."
WHATEVER IT TAKES: For Jason Simmons, it doesn't matter what position he plays, as long as he is on the field.
The Texans secondary, thinned by Travares Tillman's broken forearm and Matt Stevens' recent knee injury, needed some help and Simmons was eager to assist.
Entering training camp as a cornerback, Simmons moved to free safety last week and had two days to prepare for his first test against the Cowboys. In Dallas, he started at his new position and tied strong safety Eric Brown with a team-high five tackles.
Since cornerback Darrick Vaughn suffered a shoulder sprain in the game, Simmons now has even more defensive responsibility. As tough as it is to learn how to play multiple positions in defensive coordinator Vic Fangio's complex 3-4 defensive scheme, the knowledge that Simmons is gaining will only help his chances of making the Texans final roster.
"This next week, he'll probably have to know the nickel, dime, corner and safety position," Capers said. "A guy has tremendous value if he can play four different positions for you."
BABY STEPS: Although he was held out of contact drills and team practice today, rookie running back Domanick Davis participated lightly in certain individual drills.
Recovering from a broken right hand that he suffered during a blocking drill in the beginning of training camp, Davis' progress has been very good. Based on how his rehabilitation goes during the next week, Davis will likely see action in the Texans' last preseason game at Tampa Bay.
         **INJURY REPORT:**The
         following players did not participate in today's practice:
         fullback [Jarrod
         Baxter]() (foot), running back Domanick Davis (hand), defensive
         tackle [Howard
         Green]() (knee), wide receiver [Atnaf
         Harris]() (hamstring), tight end [Bennie
         Joppru]() (groin), linebacker [Jimmy
         McClain]() (knee), center [Steve
         McKinney]() (knee), guard [Ryan
         Schau]() (knee infection), guard [Ed
         Ta'amu]() (PUP-knee), safety Travares Tillman (forearm),
         cornerback Darrick Vaughn (shoulder), defensive end [Gary
         Walker]() (shoulder), running back [Jonathan
         Wells]() (turf toe).