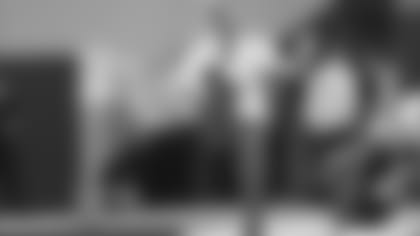 Stanley (6-3, 209) is one of four Texans to suit up for all 80 games in franchise history.  He had a career-high with 41.6 yards per punt average this past season.  He set a career-high with a 48.2-yard average at the New York Jets (11/26), and hit a season-long 62-yard punt in the last game of the season against Cleveland (12/31).
During his time in Houston, the Ore City, Texas native has landed an NFL-high 135 punts inside the 20-yard line over the past five years.  He had his best seasons during the Texans' first two years, placed 34 percent of his punts inside the opponent's 20-yard line.
Stanley's quick release has aided him to hit 323 consecutive punts without a block.  Over the past two seasons, Stanley has punted 153 times, with only six touchbacks, which is tied for the least of any punter to boot at least 150 punts.
**Following is the free agent the Texans have signed from other teams (2):
**RB Ahman Green (6-0, 218)    Last team: Green Bay Packers
LB Danny Clark (6-2, 245)      Last team: New Orleans Saints
**Following are the free agents the Texans have re-signed (4):
**CB Roc Alexander (5-10, 190)
OT Ephraim Salaam (6-7, 302)
P Chad Stanley (6-3, 209)