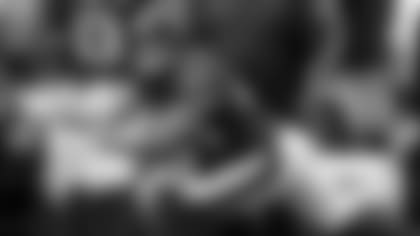 The Texans released wide receiver Kevin Walter on Tuesday afternoon. 
Walter, 31, caught 41 passes for 518 yards and two touchdowns in 2012. He started at least 14 games for the Texans in every season from 2007-12, averaging 52 catches, 654 yards and four touchdowns per year.
Releasing Walter saves the Texans $2.5 million in cap money, according to John McClain of the Houston Chronicle. It also leaves Lestar Jean, DeVier Posey, Keshawn Martin and Jeff Maehl as the Texans' only wide receivers along with six-time Pro Bowler Andre Johnson.
Walter signed with the Texans as a restricted free agent from the Cincinnati Bengals in 2006, Rick Smith and Gary Kubiak's first season with the team. He developed into one of the Texans' most dependable targets and a valuable blocker in the running game. He was lauded by coaches and teammates for his work ethic and team-first attitude.
Walter's best season was in 2008, when he had 60 catches for a career-high 899 yards and eight touchdowns. He also caught the game-winning touchdown pass with 0:02 remaining in the Texans' Week 14 comeback victory at Cincinnati in 2011, which clicnhed the team's first-ever division title.
Twitter.com/NickScurfield