*
*HOUSTON-It was a big day for the Texans. But it was especially meaningful for head coach Dom Capers, who faced his former Carolina Panthers for the first time and Tony Banks, who stepped in to make his first start in Houston.

In front of a sea of 70,052 red jerseys, Capers, Banks and every other Texan closed out the first half of the season with a 14-10 win over one of the league's strongest sides while snapping a three-game losing streak to improve to a 3-5 record.
"I have a lot of memories in Carolina," Capers said. "Obviously I spent four years there and you start from scratch. Today was a special win because they were leading the NFC. They had home field advantage coming in here today and I think it proves to our football team that we can play with the best of them."
Banks completed 13 of 19 passes for 154 yards, one touchdown and a 110.4 passer rating in his first start since holding the reins in Washington during their 2001 season finale against Arizona.
"I could sense it all week," Capers said about Banks' ability to lead the squad. "They all respect Tony. They all had confidence going into the game the Tony could go in there and direct us to a win. And I think Tony has confidence."
Banks was able to connect with TE Billy Miller four times for 58 yards and a touchdown in his most productive game this year while WR Andre Johnson caught four passes for 64 yards. For his stellar leadership, the team gave Banks the game ball after the thrilling victory.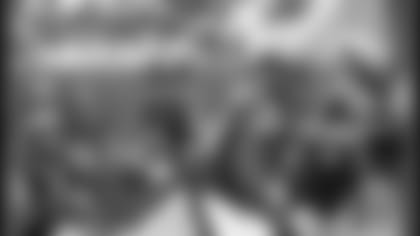 Banks didn't allow the Texans' offense to skip a beat Sunday.
"That's huge," Banks said about receiving the game ball. "Anytime you get a win, no matter if you're a large part of it or not, to get us back into the win column.
Two Davis' led their squad's in rushing as Panthers' RB Stephen Davis posted 153 yards on the ground and Houston's Domanick Davis finished with 74 yards rushing before leaving the second half with a strained chest.
The Texans knew coming into today's contest with the Carolina Panthers that it would be an all-out ground battle for 60 minutes. Their predictions were right on the money.
The Panthers wasted no time putting Davis, their running machine, to work. He picked up 20 yards on eight carries while the Panthers drove 68 yards on their first possession to take an early 7-0 lead.
The drive accounted for half of the first quarter while QB Jake Delhomme only threw three times, all for completions. From 24 yards out, Delhomme connected with WR Steve Smith down the middle to give Carolina an early lead.
The Texans offense sputtered on their initial try and Carolina took over again, blowing up the field both on the ground and in the air. Delhomme hit wide-open TE Kris Mangum on a 34-yard laser to put the Panthers' offense at the Houston 40. The Panthers recovered from a five-yard illegal receiver penalty and picked up a first down when Delhomme hit FB Brad Hoover on a 10-yard pass as the end of the first quarter wound down.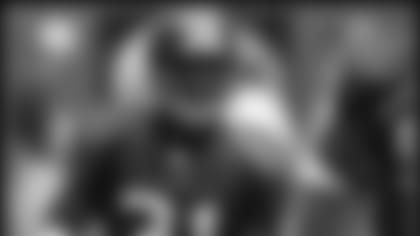 Glenn's critical second-quarter pick prevented a Carolina touchdown.
Just 25-yards from another touchdown, Delhomme lofted a pass to WR Muhsin Muhammad but Texans CB Aaron Glenn dampened any scoring hopes when he stepped in front of the throw in the end zone for his first pick of the season and 30th of his career.
The Texans took over on their own 20 while Banks came out firing, hitting WR Jabar Gaffney for an 18-yard gain. Panthers DE Mike Rucker pushed the Texans' offense back three yards when he sacked Tony Banks and one play later, Chad Stanley came in to punt.
Carolina return man Steve Smith signaled for a late fair catch just as Texans gunner Darrick Vaughn was pushed into him by a Panthers' blocker. The ball was down by Houston LB Steve Foley and was initially rewarded back to Houston after the officials ruled that the ball hit a Panthers' receiver. But Carolina head coach John Fox threw the red challenge flag and Carolina was given the ball at their own 2.
Four Davis carries and a DeShaun Foster reception moved the Panthers towards Texans' territory. On Davis' next rush, Texans LB Jay Foreman knocked the ball loose as Glenn scooped it up and returned it for a touchdown, but the play was challenged and called back as Davis was ruled down by contact.
The Panthers were still not able to make it into the end zone and P Todd Sauerbrun was called in for punting duty. Houston again was not able to capitalize on the defense's stand and Stanley punted his third of the day inside the 20.
The Texans were able to get the ball one more time before the end of the half but were not able to tie up the score before heading into the locker room.
By halftime, Davis rushed for 107 yards while Delhomme completed seven of 10 passes for 98 yards, one touchdown and one interception. Though Carolina racked up 209 first half yards to the Texans 61 and controlled the play clock for 19:31, the Texans defense held a stalwart Panthers offense, led by Davis, to only one touchdown.
What the Texans lacked on offense in the first half, they began to make up for on their opening drive to kick off the third quarter.
"I was encouraged with the attitude of the players in the locker room at halftime," Capers said. "We did not perform the way we wanted in the first half, but they came out I think determined to perform better in the second half. I thought that the opening drive set the tone for the second half."
Domanick Davis rushed for gains of nine and four yards before breaking through the Panthers' defensive wall to pick up a long of 23. Banks then hit Miller for six yards in the air and connected with Johnson on an 11-yard pass.
Davis rushed for another 17-yarder before Miller put the offense within five yards of the goal line after hauling in an 11-yard reception. RB Stacey Mack punched in a one-yard touchdown to seal a 73-yard drive and tie the game at seven.
But the Panthers answered with a 68-yard scoring jaunt as Davis kept the Houston defense busy as he picked up 32 yards on one drive. But the Texans defense didn't wear, as they stopped the Carolina offense from five yards out on third down, bringing in John Kasay to boot a 23-yard field goal to put Carolina ahead 10-7.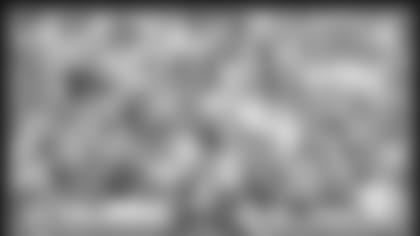 Miller notched his second touchdown of the season.
Banks was determined to put his unit in the lead for the first time all day and hit Johnson on a 12-yard pass before Johnson hauled in a key 35-yarder on 3rd and 18 to put Houston on the Carolina 28. After runs by Tony Hollings and Mack, Banks threw a strike down the middle to Miller who made an impressive one-handed 20-yard touchdown catch to put Houston in the lead 14-10 in the fourth quarter.
The Texans defense made their most substantial stand of the day on Carolina's next offensive series, forcing a Sauerbrun punt to give Houston possession with just under six minutes remaining in the game.
On 3rd and 6, Banks saw that Gaffney's cover man Terry Cousin had his helmet turned and fired off a 12-yard strike that Gaffney stretched for above Cousin's head. Three plays later, Banks found Miller in motion on 3rd and 12 for a 21-yard gain to move the first down chains. With one second remaining, the Texans turned the ball over to Carolina on downs but were able to hold onto a 14-10 win, Houston's third of the season.
The Texans were able to pacify Carolina's 367 total yards of offense to pull off the victory compared to their 267. Houston also won the time of possession battle, controlling much of the second half of the game clock to keep the ball 30:15 to the Panthers 29:45.
Stanley punted three times for 144 yards. Each punt landed inside the Houston 20 while he notched a season-high 48.0 average.
Houston's second-half offensive surge gives the team positive momentum heading into their ninth game of the season next week when the squad travels to face a tough Cincinnati club.
"One of the greatest challenges you have in this business is to stay the course and handle the adversity that you face," Capers said after the win. "When you do that it only makes you tougher. It makes you more resilient. It makes you more determined and I think you saw that determination in our team. Were at the halfway point of our season and the encouraging thing to me is that I feel like our football team can improve in the second half."