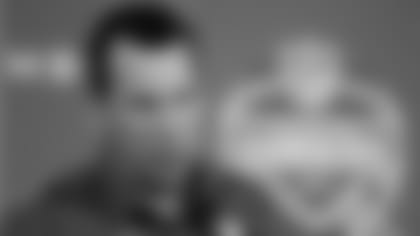 ]( "Head coach Gary Kubiak")

Hundreds of NFL hopefuls are going through physical exams, drills and interviews this week at the annual scouting Combine in Indianapolis. From that crop of players, the Texans are keeping their respective eyes on the wide receiver position.
"I think that continues to be right now a big focus for us as an organization," head coach Gary Kubiak said during a Thursday press conference. "We drafted a few young guys last year."
In 2012, Houston snagged former Ohio State pass-catcher DeVier Posey in the 3rd round, and added Michigan State's Keshawn Martin a round later. As rookies, both contributed in supporting roles. Along with 2011 undrafted free agent Lestar Jean, that trio showed flashes at times last autumn.
Team stalwart Andre Johnson led the way with 1,598 receiving yards, but Kubiak and the Texans want to see more from that position in the years to come.
"I think it's important that we continue to strengthen our team in that area," Kubiak said. "Andre is in year 11 or something like that now so we've got to find some other guys to continue to produce alongside of him."
Several mock drafts have the Texans selecting a wideout in April's Draft, but neither Kubiak or general manager Rick Smith spoke about specific players during Thursday's press conference. Posey's future, however, was a key topic of conversation with Smith yesterday.
In the fourth quarter of the season-ending loss at New England, Posey injured an Achilles tendon. A late January surgery for that injury followed, and Posey has begun the rehab process. Smith said that comeback is typically an "eight or nine month" journey, but was proud of the improvement Posey made on the field over the course of last season.
"Every workday during the course of the week he was literally the last guy to leave," Smith said. "He put in extra work on the Jugs machine. He put in extra work running his routes and honing his craft. And I think you saw the result of that as the season progressed."
That devotion to his craft made a very favorable, and memorable, impression on Smith. He believes it will serve Posey well over the next year.
"I believe that DeVier has a work ethic to get back from this," Smith said.
"It's something that I saw all last year. It's something that we researched and thought we knew about him from Ohio State, it's something that we were able to witness this year and I am confident he will be able to come back from that."
Help from a veteran is also a possibility at the wide receiver position, and March 12 is the beginning of free agency. Whether help comes that way, via the draft, or through the improvement of Martin, Jean and Posey, help is on the way.