Texans players showed their appreciation for the City of Houston's firemen on Tuesday afternoon by serving a Thanksgiving meal at Fire Station #33. Around 50 firemen had an early Thanksgiving meal provided by Frenchy's and served by members of the Houston Texans.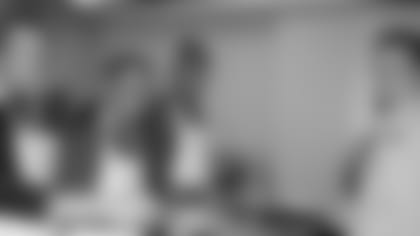 "We have to remember that firefighters have a second family and this is their second family," Fire Chief of the City of Houston Phil Boriskie said. "It's really special that the community comes out, or an organization (comes out) and recognizes us because we are a 24-7 organization. We work Mother's Day, we work Christmas, and it becomes part of our life. So for our family to get together and have this special meal and have it prepared for us, that's really special."
With the holidays approaching, many city officials will be out working extra to ensure that the community enjoys the season. The Texans, along with 3131 Properties and Frenchy's, joined forces to support the fire department division of local officers during this time of the year.
Jason Medlock, President of 3131 Properties, was proud to add this event to the list of community-related projects done by the organization.
"People don't really realize how hard these guys work," Medlock said. "To be able to come out and serve them for a change, I think it's good for the community and for the morale of the fire department."
3131 Properties is actively involved with the community, setting up football summer camps and endowing scholarships to Texas A&M University through the 12 th Man Foundation and to Houston Community College.
Texans Sage Rosenfels, Kailee Wong, Kris Brown and Mark Bruener, used to being the center of attention on the field, were the men behind the scenes Tuesday afternoon. Texans players are actively involved in the community year-round, but chose to give up their day off during a game week for a special cause.
"They're all pretty much the same idea of us trying to give back to the people in our community that serve us," Brown said. "It's a small way for us to come up and give these guys some food and interact with them a little bit. They do so much for us and for the city of Houston that it's just nice for us to be able to give back to them."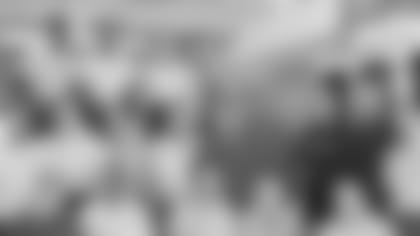 Rosenfels, new to the Texans this year, jumped at the opportunity to show his support and appreciation.
"I think we (Texans organization) do a great job of giving back," Rosenfels said. "I feel very fortunate to have the great job that I have. I call it a job because I get to play a great game, to earn a great living, but these guys work really hard. Their jobs are really honorable and obviously we appreciate that. We appreciate what they do to protect our communities."
The firemen were treated to a full Thanksgiving meal that consisted of turkey, fried chicken, dirty rice, yams, greens, and dessert. All the food items were a taste of the Frenchy's holiday menu available to the public.
Reginald Coachman, Chief Operating Officer and Partner of Glennlock Foods, DBA Frenchy's, was at hand to make sure the operations of the event ran smoothly, but most importantly to make sure the firemen were content with their meals.
"We're very elated to help put this together and feed the firefighters today as a partner with the Houston Texans," Coachman said. "We were invited to come along and provide some good will for folks who provide civil service for the Houston community. So we're out today to help serve them some delicious food and some traditional Thanksgiving items."