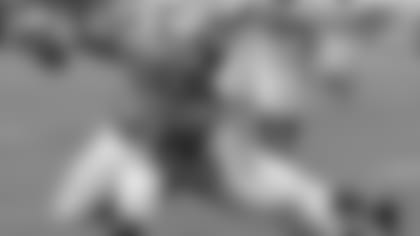 The Texans have signed free agent fullback Greg Jones.
Jones, who spent the first nine years of his career with the Jacksonville Jaguars, visited the Texans on Tuesday. He went to dinner with Texans coaches and afterward met with Pro Bowl cornerback Johnathan Joseph, a fellow South Carolina native.
Jones (6-1, 265) was the lead blocker for Jaguars running back Maurice Jones-Drew when he led the league in rushing in 2011. He also blocked for 1,000-yard rusher Fred Taylor.
"He's a guy that's not afraid of contact," Texans running backs coach Chick Harris said Wednesday. "He's gonna make a collision and he's gonna be able, with his strength, to move people. When you get in situations where that's needed, I think he will answer the bell, and he will compete with the best of them."
The Texans were in search of a fullback after versatile starter James Casey signed with the Philadelphia Eagles. Jones, 31, is more in the mold of former Texan Vonta Leach, a bruising lead blocker who has pass-catching ability but will be used primarily to clear running lanes for Arian Foster.
"We wanted a banger, a guy that can hammer in there," Harris said. "When things get tough, when you get around tough defensive teams, we wanted somebody that you could stand up against that kind of pressure and not be turned back. I don't think he's gonna be turned back. I think he's excited about what we have here, and I think our tailbacks will be happy with it."
A second-round draft pick as a tailback out of Florida State in 2004, Jones re-invented himself as a fullback after missing the entire 2006 season with a torn left ACL. His career totals include 270 carries for 911 yards and 10 touchdowns with 68 catches for 437 yards and three touchdowns.
Harris said the Texans' defensive coaches and linebackers have the "utmost respect" for Jones from facing him twice a year with the division rival Jaguars.
"We're really happy," Harris said. "Losing James Casey was tough on us, but our people were able to see a guy that we played against numerous times. Our defensive staff has great respect for Greg, and it's proven to be the right fit for us. I think that he's gonna give us the type of veteran leadership that's gonna be required at that position, third down and shorts and things we require our fullback to be a standout."
Twitter.com/NickScurfield