A former Yellow Jacket created the most buzz heading into today's supplemental draft. And the Texans moved quickly to grab him.
Houston selected running back Tony Hollings Thursday in the second round of the 2003 NFL Supplemental Draft. The Texans will surrender their second of two second-round picks in the 2004 NFL Draft, which they acquired from Oakland on the first day of this year's college draft.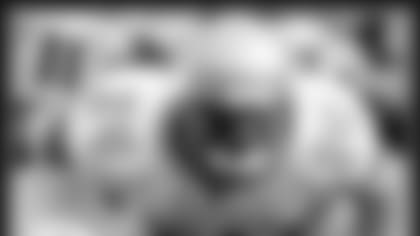 "We are excited about drafting Tony," Texans general manager Charley Casserly said. "He showed excellent promise as a player last year."
Hollings (5-10, 216) was the nation's leading rusher in 2002 before he tore his right ACL in a game against Brigham Young. He had 92 carries for 633 yards and 11 touchdowns through four games, averaging 158.3 yards per contest. Hollings was the first Yellow Jacket to rush for 100-plus yards in four consecutive games since Eddie Lee Ivory in 1978.
Then on May 15 Hollings was one of 10 Yellow Jackets declared academically ineligible for the coming season so he threw his name in the supplemental draft. Hollings, a former defensive back, worked out for numerous NFL teams on July 1, posting 17 reps at 225 pounds and jumping 36.5 inches. He did not run the 40, though Tech staffers said Hollings had clocked in the 4.38 range there.
"I'm excited to be a Texan," Hollings said. "I haven't stopped smiling since I found out. I've come a long way and I'm excited to show what I can do."
Hollings played defensive back for his first two seasons at Tech before switching to running back under new head coach (and former NFL coach) Chan Gailey. He is considered a big-play runner who but displayed plenty of open-field speed in those four games, posting scoring runs of 34, 46, 56 and 72 yards. Hollings has also shed seven pounds off his playing weight.
         This
         marked the second consecutive year the Texans have selected a player
         in the supplemental draft. Houston picked guard [Milford
         Brown]() with a sixth-round choice last September.