Last year, the Texans killed any draft day drama a few days earlier by announcing they would select quarterback David Carr with the first overall pick.
This year, Houston debated its first-round selection until the very end. But in the end, the Texans settled on a playmaker that they hope will complement Carr for seasons to come.
The Texans selected Miami wide receiver Andre Johnson with the third overall selection of the 2003 NFL Draft Saturday. Texans general manager Charley Casserly sent the pick in from the club's draft room while Houston was on the clock.
"We've felt all along that Andre Johnson was one of the best receivers at the college level," Casserly said. "We're excited that he's going to be a Texan."
The move capped a wild morning of speculation. Cincinnati announced Thursday it would select USC quarterback Carson Palmer with the first overall pick. It was widely assumed that Detroit would then use the second selection on Michigan State wide receiver Charles Rogers. But reports out of Motown indicated that the Patriots, with two first round picks (Nos. 14 and 19), wanted to trade up to No. 2 to select Kentucky defensive tackle Dewayne Robertson.
The Lions, however, stayed put and chose Rogers, leaving the Texans to select from among a group of highly-rated players that included Johnson, Kansas State cornerback Terence Newman, Utah tackle Jordan Gross and Robertson. In the end, they opted for Johnson to help upgrade the league's 32nd-ranked offense from a season ago.
"We did entertain some potential trades yesterday," Casserly said. "There were a lot of rumors flying around about people trading with Detroit. We did look into those options, too, to find out if they were there.
"When when got on the clock, it was much ado about nothing. We didn't receive one phone call and it made the pick very easy."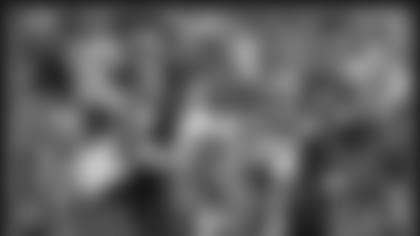 Johnson had 22 TD grabs in three seasons at Miami.
In Johnson, the Texans are getting a coveted combination of size and speed at wideout. Johnson (6-2, 230) has clocked a 4.3 40-yard dash and captured the Big East Conference 60m indoor and 100m outdoor titles in 2002.
"You don't find 6-2, 230-pound receivers that run sub 4.4 much," Texans head coach Dom Capers said. "We feel very fortunate to be able to acquire Andre."
At Miami, Johnson not only established himself as one of the nation's most explosive receivers, but also developed in a program that's accustomed to winning.
Over the past two seasons -- during which the Hurricanes posted a 24-1 record and appeared in two national championship games -- Johnson caught 89 passes for 1,774 yards and 19 touchdowns. Johnson averaged 21 yards per catch as a junior in 2002, besting his career average of 19.9 yards.
Johnson entered the limelight two seasons ago when he caught seven passes for 199 yards and two touchdowns in Miami's win over Nebraska in the Rose Bowl, which earned the Hurricanes their fifth national title. Johnson's efforts earned him Co-MVP honors with quarterback Ken Dorsey.
How do first-round receivers fare once they hit the big leagues? Our message board master AJ (sorry, Vinny) breaks down the past 10 drafts.
Johnson then became UM's primary threat in 2002, developing a penchant for game-breaking plays. He hauled in a career-high 52 passes for a career-best 1,092 yards, joining Eddie Brown (1,114 yards, 1984) as the only Miami players to crack the single-season 1,000-yard receiving yards mark. Johnson's nine touchdown receptions averaged 22.5 yards per pop, helping him earn first-team All-Big East Conference honors.
"In all of our research, we were very impressed with his work ethic," Capers said. "Everyone associated with Andre at Miami thinks he'll bring a physical nature to our offense and give us a big-play guy."
A native of Miami, Johnson was an All-America performer at Miami Senior High School.
The Texans started six rookies on offense last season and managed just 139 passing yards per game. But Carr was sacked 76 times behind a makeshift offensive line and Houston struggled to run the ball. The Texans have already made significant upgrades to their offensive line and signed free agent running back Stacey Mack to team with Jonathan Wells.
Now with Johnson joining sixth-year pro Corey Bradford and second-year wideout Jabar Gaffney, Houston can now boast an impressive trio of fast receiving threats for one of the league's top young passers.
"We think Andre will give David a very good target to throw to," Capers said.
And Johnson's size will help when Carr hands the ball off as well.
         "His
         physical presence on the field will enable us to increase our
         running game," Capers said. "I think he'll be a good
         blocker. You're talking about a guy who's 230 pounds. He's going to
         be the same size as a lot of those linebackers he'll be
         blocking."