Head coach Gary Kubiak announced after practice Wednesday that the Texans and Green Bay Packers have agreed to swap running backs Vernand Morency and Samkon Gado.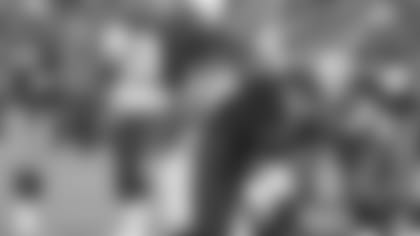 The trade will become official once each player passes his physical, which could happen as soon as Thursday.

"It's a good move for Vernand, (the Packers) are very interested in him, and it's a good move for us, because we feel like it gives two big, banging-type backs, and then we have two younger, smaller backs in Wali (Lundy) and Chris (Taylor)," Kubiak said. "We like the way that evens out and we hope that it helps us."
Playing under current Texans assistant head coach/offense Mike Sherman last year in Green Bay, Gado (5-10, 226) gained 582 yards on 143 carries (4.1 avg.) and tied for the league lead among rookies with six rushing touchdowns. He also had 10 receptions for 77 yards (7.7 avg.) and another score.
Gado played in eight games with five starts in place of injured running backs Ahman Green, Najeh Davenport and Tony Fisher. Gado missed the final two games after spraining his right knee.
"He's the type of back this organization is looking for," Sherman said. "He's a great person and a great back. He's very humble, has a tremendous work ethic, he's a tough kid and he's a downhill runner, and that's what Gary is looking for."
General manager Rick Smith believes Gado can be an every-down runner for the Texans.
"I think he proved that last year," Smith said. "That's not to say that I know that Vernand couldn't have been an every-down back and not develop into that type of player, because he certainly has done everything that we asked of him to do to acclimate himself to this offense. But again, I think he's more in line for what they're asking him to do there."
Gado was originally signed by the Kansas City Chiefs as an undrafted free agent from Liberty University. After spending some time on the Chiefs' practice squad and being released, Green Bay signed him to their practice squad Oct. 17 before activating him 12 days later.
Center Mike Flanagan, who spent 10 years with the Packers before joining the Texans this offseason, thinks Gado will fit nicely in Kubiak's offense.
"I like the guy," Flanagan said. "He'll come in and play hard, so I think it's a positive thing. He's kind of wide-eyed and bushy-tailed. He came from a tiny little school, and K.C. signed him and then (Green Bay) signed him to the practice squad for two weeks. Then the next week he's running for 100-some yards on Monday Night Football. So he's baby-faced and young, but he plays hard and he's a good kid. I think he'll be a good addition here.
"He has some power. He has some speed. He's not the fastest guy on the field. He's not the biggest guy. But he has a little bit of everything. He makes the right reads, and he adapted pretty fast in Green Bay when I was there with him and I'm hoping he'll do the same here."
Known for his burst of speed and vision, Gado played his best game versus Detroit on Dec. 11. 2005. He gained 171 rushing yards and scored on a 64-yard touchdown run. He finished with 180 yards of total offense. In November, Gado earned NFL offensive Rookie of the Month honors.
A third-round pick in 2005, Morency played in 13 games with one start last season. He gained 184 rushing yards and scored two touchdowns. Playing behind rookie Wali Lundy this year, Morency rushed five times for 13 yards against the Eagles in Week 1.