HOUSTON - Believe. After a disappointing 1-4 start to the season, there was talk among some Texans' fans that perhaps the 2006 season would be a repeat of 2005. Think again.
dominated the visiting Jacksonville Jaguars 27-7 Sunday at Reliant Stadium to improve to 2-4 on the season, while equaling their win total from a year ago.
Rookie running back Wali Lundy rushed for 93 yards, 91 of those coming in a second half that saw the Texans outscore the Jags 17-0 in the final two quarters. Sporting their red jerseys for the first time this season,
improved to 4-2 in their Battle Red's while improving to 5-4 all-time against the Jaguars.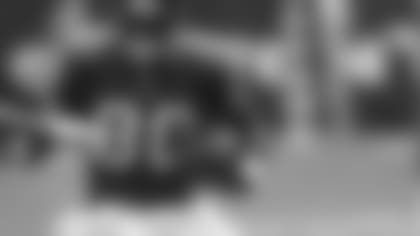 It was Houston who entered Sunday with the league's worst defense, at least statistically, but Richard Smith and his defense looked anything but Sunday, forcing two turnovers leading to 14 Houston points in the fourth quarter, while holding Jacksonville to just 220 total yards.
's offense racked up 349 total yards, and while Lundy starred in the ground game, David Carr shined as well through the air amassing 224 yards to go along with two touchdowns and no interceptions.
Andre Johnson collected 106 of those yards, and one of those touchdowns as Johnson continues to demonstrate he deserves to be ranked among the leagues best receivers. His 35-yard touchdown reception started scoring, giving
a 7-0 lead and the Texans never looked back.
's second consecutive win at home, a first in franchise history, and it all began with a fortuitous flip of the coin.
After winning the toss, the Texans elected to receive to start the game and after a 28-yard return from Edell Shepherd,
took over on their 29-yard line. Samkon Gado gained six yards on his first touch of the day, but after Gado was stuffed on second down, Carr failed to find Eric Moulds on third-and-four and the Texans were forced to punt.
took over on their own 20 and made their way to midfield before Byron Leftwich was sacked by Mario Williams on third down to force a Jaguars punt.
The Texans second drive began on their own 19-yard line. An illegal contact penalty on
negated an interception by Deon Grant on first down and Carr was pressured out of the pocket on the ensuing play, throwing the ball away, to set up second-and-10.
The drive took off from there. A 26-yard reception from Johnson got the Texans to midfield and
moved toward their first score of the game using Gado in the run and pass game. But on third and long from the Jaguars' 20-yard line,
blitzed and forced an incompletion setting up a 38-yard field goal attempt by Kris Brown.
Brown failed to convert, his first miss of the season, and
took over on their own 28-yard line.
's defense took over from there, forcing Leftwich and the Jags three-and-out. Following the Jags' punt,
began their third drive of the game on their own 19-yard line.
marched 81 yards for the first score of the day by either team. Johnson again was a driving force as his 35-yard touchdown reception capped off a drive spanning 5:27 giving Houston a 7-0 lead with 12:14 remaining in the second quarter.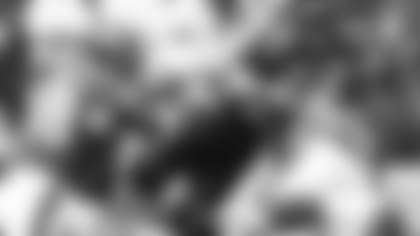 Jacksonville began their next drive on their own 22-yard line and thanks to a 19-yard screen play to Maurice Jones-Drew and a 10-yard run by Fred Taylor, the Jags were able to get to midfield. However, once there, Houston 's defense answered the call and forced another
After Jacksonville 's punt sailed into the endzone for a touchback, Houston took over on its own 20-yard line but couldn't manage a first down and after another Stanley punt, surrendered possession to
at the Jags' 47-yard line.
The Houston defense stood strong again, getting another three-and-out and a poor Jaguars punt gave
the ball back at the Texans' 24-yard line with just over six minutes remaining in the first half.
Houston went on their second long scoring drive of the day on their next possession. Carr moved
down the field by finding receivers on short crossing patterns and screen passes. Brown made good on his second field goal attempt of the day to end the drive, this one from 43 yards, giving
a 10-lead with 1:10 remaining in the half.
Jacksonville did nothing on their last drive of the half and was forced to punt just 30 seconds later, giving
the ball back with 33 seconds remaining in the half. With only one timeout, the Texans attempted to move toward their third score of the day, but ran out of time and settled for a 10-0 lead at the break.
wasted no time getting on the scoreboard to start the second half. The Jags began their first scoring drive of the day on their own 30-yard line and fueled by 46 rushing yards by Taylor and a pass interference penalty on Lewis Sanders in the endzone, found pay dirt with a  Jones-Drew one-yard plunge into the endzone.
, with 9:20 remaining in the third quarter.
Houston went three-and-out on the ensuing drive and after a Stanley punt and fair catch,
began their second drive of the second half on their own 33-yard line.
faired no better on their drive, going three-and-out as well. A booming Chris Hanson punt pinned
back on its own 21-yard line.
The defensive struggle continued from there as
looked like they were going score again on their next drive. But a drive of nearly five minutes ended on the Houston 28-yard line when Antwan Peek forced Taylor to fumble. The ball was recovered by Williams, the first fumble recovery of his career.
The turnover sparked the Houston offense. Lundy capped off a 78-yard scoring drive with a two-yard touchdown run to give
a 17-7 lead with 11:32 remaining in the fourth quarter. It was appropriate that Lundy get his first touchdown of his NFL career as a Lundy 29-yard put the Texans in position to score.
handed the ball right back to the Texans on their next play from scrimmage. After a 15-yard reception by Ernest Wilford, DeMarcus Faggins forced a fumble and
Three plays later, Owen Daniels was in the endzone with his third touchdown reception of the season, tying the record for most by a Texans tight end in a season.
After the short three play, 26-yard drive,
had a 24-7 lead with 9:57 remaining in the game.
did little on offense and Lundy and the Texans offense took it from there. Lundy added a 27-yard scamper to put
Brown capped a 31 yard, six-play drive with a 21 yard field goal to give
a commanding 27-7 lead with 3:12 remaining in the game.
The Texans cruised to the win from there. Jacksonville didn't threaten midfield, let alone the endzone for the remainder of the game and Houston claimed its' second win of the season, while
dropped to 3-3 on the year.