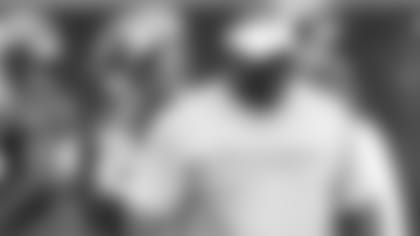 ]( "Texans strength and conditioning coach Cedric Smith")

The Texans finished their five-week offseason conditioning program on Thursday at Reliant Stadium. They will start OTAs (organized team activities) Monday at 11:30 a.m.
The voluntary offseason workouts began on April 15. Players worked with strength and conditioning coach Cedric Smith for two weeks in Phase One of the program. In Phase Two over the last three weeks, they continued to workout with Smith and did limited work with coaches on the field and in meetings.
"It's been going real good," Smith said in his office at Reliant Stadium on Thursday afternoon. "We're becoming a team, and that's kind of the whole concept of training together and working together. The first day we came out, we talked about being honest with each other, and my take on that is if you can't be honest with each other with your intensity and your accountability and your discipline and how hard you work, then you can't get better as a team. I think we were able to do that."
"The biggest thing is we want to get in shape conditioning-wise," he said. "We want to become stronger, more explosive. With everything that we do in here and on the field, it helps us become a more mentally tough football team, a more physically and mentally tough football team. I think it all lines up together, and it's what we kind of hang our hats on is the way we work guys."
Monday's practice will be the first of 10 OTAs that conclude June 6. Smith has observed a hungry group of players over the last five weeks after the Texans finished last season 12-4 and lost in the Divisional Round of the playoffs for the second consecutive year.
"They're extremely hungry," Smith said. "We have enough veteran leadership to carry that, even with the younger guys that we've taken on now. I think it's gonna be a special year, and I'm excited about it. But I think that our veteran leadership knows the sense of urgency that's there for us to do what we need to do and to add whatever the integral part that we missed last year, to add that in so we can go ahead and do the things we want to do, and that's basically win a championship."
Twitter.com/NickScurfield