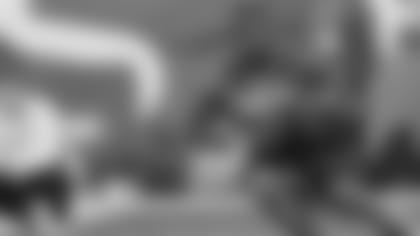 Arian Foster and Ben Tate are the only veteran running backs on the Texans' roster. That leaves undrafted rookies Ray Graham (Pittsburgh), Dennis Johnson (Arkansas), George Winn (Cincinnati) and Cierre Wood (Notre Dame) to compete for the vacant third spot.
"We didn't draft a running back, but boy, we signed a couple good ones in free agency," Texans general manager Rick Smith said earlier this week at Reliant Stadium. "I like that group."
Justin Forsett, the Texans' second-leading rusher in 2012, signed with the Jacksonville Jaguars in March. The Texans have employed at least three running backs for the last several years.
"It was a big conversation during the draft," Texans coach Gary Kubiak said. "If we were able to draft a back, he's really gonna make our team with what we're gonna carry. We had a couple guys targeted that ended up going a little bit earlier than we thought, be we had some of these free agent guys that we had been talking about for a while."
Graham (5-9, 190) tore his right ACL in 2011 but was first-team All-Big East in 2011 and 2012. He had 11 career 100-yard games, 32 rushing touchdowns and 98 catches. Johnson (5-7, 196) ran for 757 yards and eight touchdowns as a senior and is Arkansas' career kick return leader with 2,784 yards and three touchdowns.
Winn (5-10, 218) had 1,334 rushing yards (5.5 per carry) and 13 touchdowns as a senior in 2012. Wood (5-11, 213) had a 1,000-yard season in 2011 and finished his Notre Dame career with 2,447 yards (5.4 per carry) and 16 touchdowns.
Foster went undrafted out of Tennessee in 2009 before becoming a three-time Pro Bowler.
"We'll bring them in, take a look," Kubiak said. "We've been fortunate as a team that (Texans offensive coordinator) Rick (Dennison) and (running backs coach) Chick (Harris) and (offensive line coach) John (Benton) do a great job of finding a gem somewhere in the free agency period, especially at the running back position, so let's see if we can find another one."
Twitter.com/NickScurfield