EDITOR'S NOTE:Texans fan Alan J. Burge will be writing a "Voice of the Fan" column throughout the 2004 season. His third installment is below. Alan's views do not necessarily reflect the views of the organization.

After two seasons of drafts favoring the offense, Texans GM Charley Casserly paid close attention to the defense this year, selecting seven defensive players out of nine draft picks. It was time. There were holes to fill and there was a need to infuse the Texans defense with young talent to shore up depth. Injuries and lack of quality depth, especially on the defensive line, doomed the Texans to 31st in the NFL in yards allowed and 27th in points allowed in 2003. However, despite their dismal defensive rankings, the Texans kept it close in many games because of good coaching and inspired play by many of the backup players.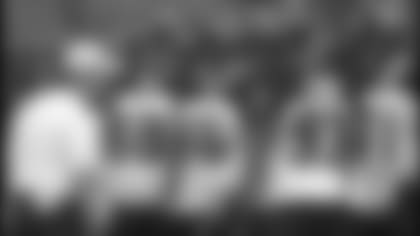 All that young defensive talent will make for some intense competition when training camp starts in July, especially at backup positions in the secondary and linebacker. Although most starting jobs are set, there's just enough tinkering going on to make things very interesting. A higher level of competition is a good thing. It means that the overall depth of the team is improving and it is becoming more difficult for average players to make this team.
Last season, the Texans went into Week 1 at Miami with 24 defensive players on a roster that included 10 defensive backs, eight linebackers, and six defensive linemen. Just for grins, let's assume the Texans use the same formula this year and take a look at who will make the team and who will be looking for work in September.
Defensive Line (6): This is the most settled group on the defense with Gary Walker, Seth Payne, and Robaire Smith projected as starters. Both Walker and Payne are coming off injuries that caused them to miss most of the 2003 season. Payne's full recovery will be one of the major keys to the 2004 season and he may not see any significant action until late in preseason.
Robaire Smith is an upgrade at right defensive end over Jerry Deloach. DeLoach, who has played in every game in the Texans' two-year history will now back up Smith and will also fill in at nose tackle until Payne is fully healed. Corey Sears has the inside track to the other backup defensive end position with second year player Terrance Martinpushing him.
Junior Ioane has a slight edge at backup nose tackle heading into camp but if an opportunity to upgrade comes along, don't be surprised if the Texans take a run at a late camp cut by another team to fill that position.
If all goes per plan, Walker, Payne, Smith, DeLoach, and Sears should be the top five D-linemen, and Ioane will have the inside track for the sixth and final spot. Martin is on the bubble and Jason Davis,Jeremy Slechta, Ifo Pili, and D.J. Renteria will be long shots to make the team. Renteria and Pili are undrafted free agents who could benefit from a year on a NFL weight program and/or on the practice squad.
Linebacker (8): Linebackers are the heart and soul of a 3-4 defense and inside backer Jamie Sharper is one of the Texans most valuable players. Sharper, who is returning for his eighth NFL season, has played in 112 consecutive games. He anchors a linebacker corps that played well despite being stretched to the limit last season because of injuries to the defensive line.
In a bold move designed to improve the linebacker corps, the Texans selected Western Michigan defensive end-turned outside linebacker Jason Babin with the 27th pick overall in the 2004 draft. Considering the price, expect Babin to start, but like most rookies expect Babin to struggle at times this season. Vic Fangio's defensive playbook will probably be as foreign to Babin as Texas Barbeque and Tex-Mex are to the fine folks from Kalamazoo.
Despite playing in the relatively low visibility Mid-American Conference, Babin played against high quality competition including Michigan State, Michigan, Purdue, Virginia Tech and Virginia in the last two seasons. Coach Gary Darnell has said that the most impressive thing about Babin is that his production stayed the same no matter whom they were playing. According to Darnell, Babin was the focus of opposing teams' blocking schemes by his senior year, yet he still dominated.
Initially it was thought that Babin would replace Charlie Clemons at the revolving door right-outside spot but during spring mini-camps and coaching sessions, Babin worked at the left outside linebacker, moving Kailee Wongto the right outside spot. In another intriguing move, Wong has been getting work at his more natural inside spot where as advertised he could be used as an emergency backup, but reading between the lines this could signal an eventual move to replace inside backer Jay Foreman.
Whether that happens will depend on the development of backup Antwan Peek, who showed flashes of very-goodness at the right outside spot last season before being injured. Peek is very athletic and has potential to be an impact pass rusher from the right outside spot in the Texans 3-4. Don't expect immediate changes but there is good reason for the tinkering. Foreman signed a long-term deal last season, but Wong and Sharper's contracts expire at the end of the 2005 season.
At the other backup positions, 2004 draft choices Charlie Anderson and Raheem Orr will battle for one of the outside linebacker roster spots. Both are converted defensive ends who are learning a new position. Inside backups Troy Evans and DaShon Polk are valued because of their stellar special teams play. Shantee Orr made a name for himself last season and he has a chance to stick because of his playmaking ability and special teams ability.
Sharper, Babin, Wong, and Peek are locks to make the roster this season. Foreman should maintain his hold on one of the inside backer spots despite the tinkering. Roster spots six and seven will come down to a competition between Troy Evans, DaShon Polk and Shantee Orr (advantage Polk and Orr in my humble opinion), and Charlie Anderson and Raheem Orr will compete for the eighth and final slot (advantage Anderson). Marcus Bell, Phil Smith, Antonio Rodriguez, Travis Carroll,andAnthony Dunnwill likely get caught up in the numbers game.
Defensive Backs (10):Here's where it's going to really get interesting in training camp. The Texans have 16 defensive backs currently on the roster, including four rookie draft picks, who are all competing for ten roster spots.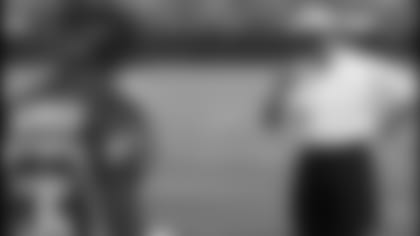 Leading this group is Pro Bowler Aaron Glenn who hopes to return to full speed after a nasty groin injury in 2003. At the other corner will be rookie Dunta Robinson, the Texans' first pick of the 2004 draft. Robinson has exceptional speed and isn't afraid to hit. His biggest challenge will be working against the taller more physical WRs of the NFL. What he lacks in height will have to be made up in technique, and for that he has the perfect mentor in Glenn.
Marcus Coleman will be moving to free safety, giving up his position to Robinson and displacing last year's starting free safety Marlon McCree. Coleman has good size and speed and the change may actually help upgrade both positions. Rookie Jammal Lord, the former Nebraska Cornhuskers quarterback, and second year player Curry Burns will compete with McCree for a spot behind Coleman. Lord and Burns may be in a tough spot unless one or the other outplays McCree in camp and preseason since last season the Texans kept only two free safeties. The ability to play special teams will be the discriminator for many of the DBs trying to make the team.
Eric Brown is the likely starter once again at strong safety. Brown's competition should come from Ramon Walker and Glenn Earlbut both are coming off serious injuries suffered late last season. Walker was a special teams standout and was making good progress before he tore his ACL in Week 13. Earl suffered the same injury in late October. Earl had a reputation as a hard hitter and playmaker before the injury. Has the makeup to excel at the strong safety position if he fully recovers but his real future with the Texans may not become clear for another year. ACL tears usually take at least a year to rehab so both Walker and Earl could be question marks until mid-season.
Kenny Wright should return at the nickel back if he can fully recover from a knee injury suffered last season in Week 16 (does this sound like a broken record or what?). Demarcus Faggins will likely return as the dime back after a very good showing late last season. He may even jump to nickel if Wright isn't ready at the start of the season. Faggins went from the practice squad to playing man against Marvin Harrison in the span of a few weeks late last season and it seems to have given him an extra boost of confidence as he entered mini-camp this season.
Also in the mix at backup corner are veterans Jason Simmons, Jason Bell, Derrick Vaughn,and Rober' Freeman. Bell has great speed and is a top gunner on punt coverage. Vaughn can return kicks as can Freeman who most recently played for the Rhein Fire of NFL Europe. Then there's Vontez Duff, a rookie corner drafted in the sixth round of this year's college draft. He was a teammate of Earl at Notre Dame and has potential as a backup corner and kick returner. Duff, Vaughn, and Freeman along with offensive players Chris Taylor and Sloan Thomas will likely be given the opportunity in camp and preseason to unseat J.J. Moses as the team's return man.
The backup defensive back slots, especially at corner, are where the tough competition and tough cuts will be made. Glenn, Robinson, Coleman, and Brown are the starters. Kenny Wright should be able to keep the fifth spot and Faggins the sixth spot at backup corner. Ramon Walker has the inside track to the backup strong safety spot (let's call that the seventh spot) but a lot will depend on his recovery from knee surgery and whether he can make the final 53 or start the year on the physically unable to perform list. If Walker can't go, Glenn Earl is the only other backup strong safety on the team and he seems to be further along in his rehab than Walker. Backup free safety (the eighth spot) should be McCree unless Lord or Burns really surprise. Lord could be a candidate for the practice squad. The last two corner spots (9 and 10) will come down to a heated competition between Simmons, Duff, Bell, Vaughn, and Freeman. It should be fun to watch, and again, it will come down to who is the best special teams player in many cases.
The long off-season drought is almost over. See you in a month at training camp!