Owen Daniels, Mario Williams and Andre Johnson represented the Texans at the 2009 Pro Bowl in Hawaii.


EDITOR'S NOTE: Between Nov. 20-30, click *here to bid on a trip for two to the 2010 Pro Bowl (tickets and airfare included, hotel accommodations not included)*
Make sure the Texans are well-represented at the 2010 Pro Bowl in Miami, Fla., by voting for players now at NFL.com/probowl/ballot.
The Texans have no shortage of Pro Bowl-worthy players, including Andre Johnson, Matt Schaub, Eric Winston, Mario Williams, DeMeco Ryans, Brian Cushing, Dunta Robinson and many more.
Balloting for the 2010 Pro Bowl concludes on Monday, Dec. 21 following the conclusion of Monday Night Football. The Pro Bowl rosters will be announced at 3 p.m. CT on Tuesday, Dec. 29, on a special NFL Total Access 2010 Pro Bowl Selection Show on the NFL Network.
As of Nov. 17, Johnson led all AFC wide receivers with 279,395 fan votes.
The 2010 Pro Bowl will be played on Sunday, Jan. 31, 2010, and televised live on ESPN at 6:30 p.m. CT from Dolphin Stadium in South Florida, also the site of Super Bowl XLIV a week later on Sunday, Feb. 7.
The AFC and NFC Pro Bowl squads are based on the consensus votes of fans, players and coaches. Each group's vote counts one-third toward determining the 43-man rosters that represent the AFC and NFC in the Pro Bowl. NFL players and coaches will cast their votes on Dec. 22 - 23.
The NFL is the only sports league that combines voting by fans, coaches and players to determine its all-star teams. It was the first professional sports league to offer online all-star voting in 1995.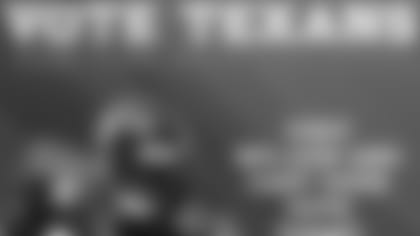 ](http://www.nfl.com/probowl/ballot)