A Houston judge dismissed charges of resisting arrest against Texans guard Fred Weary on Tuesday.
Weary was pulled over on a traffic stop last Tuesday and charged with resisting arrest by officers.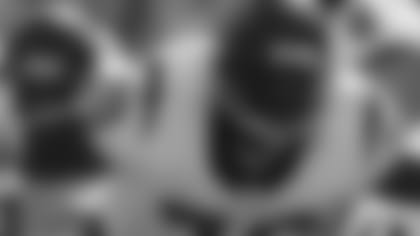 "(The judge) looked at some case law that was presented to her, and ultimately the judge concluded that there was not sufficient evidence for her to find probable cause," Weary's attorney, Charley Davidson, said during a phone interview today. "By finding no probable cause to those charges, the state had to dismiss those charges."
According to Davidson, prosecutors will continue to look at the events surrounding the traffic stop to determine whether there are other charges that might be appropriate.
In the meantime, Davidson will carry on his investigation on behalf of Weary.
"What we're going to continue to be doing is not only find additional people who might have seen parts of the traffic stop – to try to see if we can get them to come forward so we can get their information to the prosecutors – but to try to present his side of this as to what actually happened to convince the (district attorney's) office that in fact he didn't commit any crime and he shouldn't be charged with resisting or anything else."
Asked about Weary's reaction to the judge's ruling, Davidson said his client was pleased.
"He's hoping that any other individuals that drove past on the freeway and had seen the traffic stop had seen the way he was acting versus the way the cops say he was acting," Davidson said.
Ever since the incident involving Weary became public, players, coaches and other members of the Texans have rallied around their starting right guard. The Texans selected him in the third round (66 th overall) of the 2002 NFL Draft out of Tennessee.
"Since he has been here with this organization, (Fred) has been a model teammate and a model Texan for (owner) Mr. McNair and this organization," head coach Gary Kubiak said last Wednesday. "That was before I got here and has been the same way since I got here. He's been a great kid and I think a lot of him."
The day after the arrest, Weary apologized for any distraction he might have caused the team.
"The incident that I was involved in yesterday was a very unfortunate situation and I'm sorry that it has caused a distraction to the team and my family," Weary said. "I am seeking legal counsel and I am confident that the truth will be revealed as the facts of the case unfold."
The Texans are off today, and will reconvene Wednesday morning in preparation for the New York Jets this Sunday at Giants Stadium.