In the NFL, bright lights can wipe away bad memories.

Luckily the lights don't get much brighter than a nationally televised, primetime game. And that's just what the Texans get Sunday against the Green Bay Packers.
The last time the Texans were on ESPN's Sunday Night Football is nothing but good memories – a 19-10 inaugural game victory over the Dallas Cowboys.
But this game is a little different.
The Packers have a storied history. And they have future Hall-of-Fame quarterback Brett Favre calling the shots.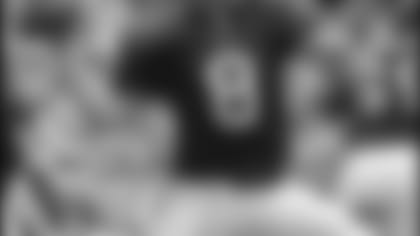 Insert inspiring Favre story here. There are plenty to choose from.*
Favre has 31 comeback victories, has started 198 straight games and thrown a touchdown pass in 34 consecutive contests.
"He's fun to watch, probably the only guy I'd pay to watch in the NFL," Texans quarterback David Carr said. "He's charismatic. He loves playing the game just like I do."
INTERESTING STATS:Green Bay is 10-2 on Sunday Night Football, 3-0 against Texans head coach Dom Capers and 3-0 all time in Houston.
QUOTABLE: "We talk about this from the very beginning, in this business you can't let what happened last week influence the next week," Capers said. "You just can't do it. Every week is a new week. Every week is a new challenge. We certainly have a challenge this week with a very talented Green Bay team coming in here that has won four in a row. They're one of the hottest teams in the league right now. Once we come in on Wednesday what happened last weekend is over and our total focus is what's standing in front of us and that's Green Bay."* *
Favre continues to defy time, completing 20 of 29 passes for 236 yards and four touchdowns against the Vikings. The adversity facing the 14-year veteran has been well documented.
He seems to play better under such pressures.
Wide receiver Javon Walker caught three passes for 74 yards and a touchdown. Running back Ahman Green rushed for 145 yards.
The Packers defense gave up 363 passing yards and four touchdowns through the air, but held the Vikings to 71 rushing yards.
THE SERIES:The teams have never met.
TEXANS ON OFFENSE: The Texans have been held to 14 points or less the past two weeks – by far the worst offensive production of the season.
Running back Domanick Davis has done better in both games, rushing for 169 yards and four touchdowns, but has been rendered nearly ineffective because the team had to pass more to get back into the game.
Defensive linemen took note and began rushing Carr without abandon. Carr has been sacked nine times in the last two games, with no touchdowns and three interceptions.
There is no where to go but up.
"You look at the last two games, we've played division leaders and they beat up on us," Carr said Wednesday. "Now it's our turn to play at home and see if we can turn things around. I'm confident that we will."* *
The Packers defense has steadily improved the last two weeks and is solid on the road.
Green Bay's defense has limited its opponents to 3.7 yards per carry and 62.8 rushing yards a game the last four weeks. Their league ranking has jumped from 30th to 12th during that span.
Credit goes to the defensive line, which averages 296 pounds (Grady Jackson leads the way at 340) and a group of linebackers that have played better in recent weeks.
Middle linebacker Nick Barnett had 164 tackles as a rookie in 2003 and has 64 through nine games this season.
The Packers have surrendered less than one rushing touchdown per game and none in the last two games.
The Vikings in essence have two starting running backs and a rookie standout – Ontario Smith, Michael Bennett and Mewelde Moore. Smith and Bennett combined for just 10 carries and 42 yards Sunday.
The Packers are no less forgiving against the pass.
Packers opponents have converted 14 of their last 47 third down attempts.
The Texans can take advantage of the Packers in the passing game however.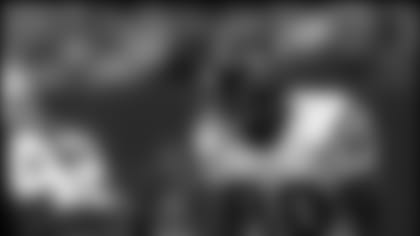 Ahmad Carroll is a rookie starting at left cornerback. Al Harris lines up at the other corner position. A seven-year veteran, Harris leads the team in pass deflections and should prove a worthy opponent for wide receiver Andre Johnson.

The Packers give up an average of 232 passing yards and two passing touchdowns per game.
The defense has been banged up at safety.
Rookie Bhawoh Jue started for Darren Sharper at free safety last week. He did well, but dropped an interception that would have been a touchdown and game-clincher for the Packers.
Instead, the Vikings scored 14 unanswered points and tied the game.
Sharper did play in the game and should start Sunday. He leads the team with three interceptions.
The other safety, Mark Roman, played four seasons with Cincinnati. He has 36 tackles on the season and two career interceptions.
The Texans had just one play of 25 yards or more last week against the Colts. They will be more than eager to find some big plays Sunday night and the Packers provide the perfect opportunity.
Green Bay has allowed 35 plays of 20 or more yards this season. The Texans have 35 such plays in the past eight games.
SPECIAL TEAMS:Longwell has been unstoppable inside of 40 yards for the past three seasons. He has hit 38 field goals from in a row from that range dating back to Oct. 7, 2002.
He has missed only two field goals this season, both hitting the goal post.
Punter Bryan Barker is averaging less than 40 yards per punt with a net punt average of 33.4 yards.
Texans return man J.J. Moses is averaging 9.4 yards per punt return.
TEXANS ON DEFENSE:Here's the key for the Texans.Get turnovers early and often. Then turn them into points.

Houston has 52 points off turnovers in nine games and are undefeated when scoring a defensive touchdown.

The Packers have turned the ball over 19 times this season and are minus-three in takeaway/giveaway during their four-game winning streak.
The Texans are tied for the league lead in interceptions (13) and picked off Colts quarterback Peyton Manning twice last week.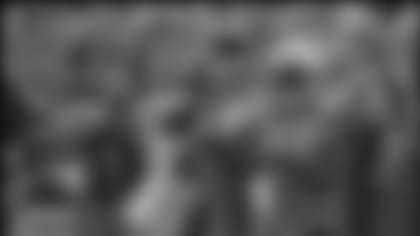 Favre is a legend, but he is human and can make mistakes. The trick will be pressuring him into such mistakes while covering some of the best receivers in football.
Playing under the bright lights for a nationally televised game should help that.
"We definitely want to give a good showing not only to the world but to our fans," defensive end Gary Walker said. "We're going to go to work (Wednesday) and prepare and go out and try to turn this thing around."
Walker leads the NFL in receiving yards and has eight of the Packers 20 passing touchdowns, but he is not even listed as a starter on the depth chart.
Donald Driver is another threat. He has 45 catches (second to Walker with 49), 571 yards and four touchdowns. No other Packer has more than 30 receptions on the year, but Favre is known for spreading the ball around the field.
Eleven different Packers have receptions on the season and Favre hit nine last week against the Vikings.
Bubba Franks is a familiar name at tight end and a scoring threat. His four receiving touchdowns have come on just 19 catches.
In order to disrupt the passing game, the Texans will have to contend with the league's best offensive lines. The group has allowed five sacks on the season and just one in the team's last 80 passing attempts.
On third down, the Packers haven't allowed a sack since last season.
The line can also be credited with the Packers running success. For all of Favre's passing ability, he says the Packers are still a run-first offense.
"Ahman Green with every carry is breaking more and more records," the quarterback said Wednesday. "I think we were second in the league last year in rushing. As long as we're high up there in rushing and people consider us a run-first team we're going to have some plays like we have had in the passing game."
Green has 864 yards on the season with six touchdowns but he has one notable weakness.
For years Green, who is left handed, carried the ball on his left side even though running backs are encouraged to switch the ball from hand to hand to avoid contact.
Knowing his tendency, defenses have forced him into fumbles but he showed some signs of adjusting the flaw against the Vikings.
The Packers are averaging 400 yards of offense per game – 130 on the ground.
"As I look at their offensive line it reminds me of Kansas City's offensive line," Capers said. "Those are two of the very best in the league. They're big, they're physical and they've got an excellent blocking fullback in (William) Henderson."
Either way, the Texans have a welcome challenge.
And the perfect stage to succeed.