Dunta Robinson was the personification of confidence Sunday afternoon.
The rookie cornerback seemed taller than normal walking off the field after his second interception against the Oakland Raiders. He had reached a milestone in his young career and it was just a start of things to come.
Cornerback is not an easy position to play. At this spot confidence and a clear head is as important as four-four speed and a good vertical leap.
Robinson and the Texans enjoyed a 30-17 win over the Raiders, but in the NFL a test of ones self-assurance is never more than a week away.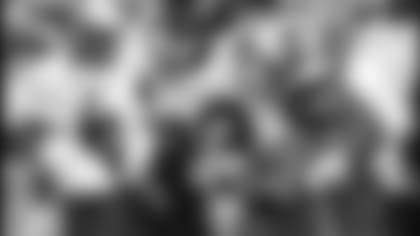 With that said, the Minnesota Vikings visit Reliant Stadium Sunday with the football equivalent of the SAT.
"Everybody's feeling good," Robinson said. "When we don't hurt ourselves, which we did in the first two games, we've shown what we're capable of doing. We just got to continue to build on that, continue to get better each week and just go out there and play the same way and see if we can do it on a consistent basis."
LAST GAME:After nearly two and a half seasons of waiting the Texans won a second-consecutive game Sunday, and it wasn't a nail biting last-second affair.
The Texans turned the tables when it came to defensive pressure, forcing five turnovers (all by Raiders quarterback Kerry Collins) which turned in to 20 points.
Linebacker Jamie Sharper recorded the second touchdown of his career when he sacked Collins, forced a fumble, recovered the ball and raced 13-yards into the end zone.
Robinson recorded the first two picks of his career, while fellow cornerback Demarcus Faggins made his first interception as a pro. Linebacker Jay Foreman also recovered a fumble.
Running back Jonathan Wells rushed for more than 100 yards for the first time since 2002 and quarterback David Carr threw for 228 yards and a touchdown. Carr has not thrown an interception in 41-straight pass attempts.
Quarterback Daunte Culpepper threw for 360 yards and two touchdowns in the game. Culpepper has completed 73-of-100 passes on the season with eight touchdowns and just one interception.
Vikings running back Ontario Smith rushed for 94 yards against the Bears and leads the team with a 198 rushing yards, but will not play for the next four games.
Smith will begin serving a four-game suspension for violating the league's substance-abuse policy Sunday. He had been appealing the suspension, but gave up his fight earlier this week.
THE SERIES:Sunday will be the first meeting between the two teams.
TEXANS ON DEFENSE:Stopping Moss will be the key to the Texans defense having such success against the league's top-rated offense.
The former first-round draft pick has been to five Pro Bowls in six years, racking up more than 1,200 receiving yards per season since entering the league in 1998. He has only caught 19 balls this season, but has five touchdowns.
"We've become more and more familiar with each other, especially on the field," Culpepper said. "I might see something and I might just nod my head at him and he'll know exactly what I'm thinking and he might change his route because we're thinking the same thing. He and I have been trying to get on the same page and do that more often the older we get in this offense and the more mature we get in this offense."
Culpepper has done a good job sharing the wealth with other receivers, however, hitting six or more different receivers in three games, but only one comes near to matching Moss' numbers.
Smith is the team's second leading receiver. Wide receivers Nate Burleson and tight end Jermaine Wiggins are tied for third with 10 catches, a combined 255 yards and no touchdowns.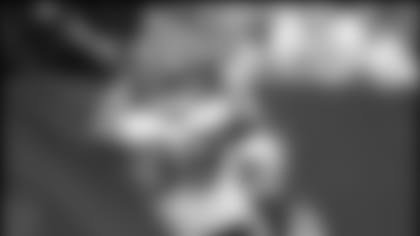 Wiggins will miss the game with a hand injury. No other Viking has more than five catches this season.
Still the Texans secondary is focusing attention on stopping Moss. And the group couldn't have picked a better time to face him. Collins threw for just 96 yards in the second half last week.
First on the list is Moss' imposing 6-4, 210-pound frame.
"That five-yard rule helps also," Texans cornerback Aaron Glenn said of Moss taking advantage of defenders off the line. "I don't know. On film you see some guys get their hands on him. He gets those calls a lot. You got to just pick your chances when you do want to do that because sometimes it can backfire on you. We just have to study what his weak points are and go out and try to attack those parts."
Texans head coach Dom Capers said the team will use a variety of coverage schemes on Moss, including Glenn and Robinson in man coverage.
The vertical passing game and Culpepper's mobility are chief concerns for the Texans. Culpepper has 79 rushing yards and a touchdown and is bigger than some of the league's linebackers (6-4, 264 pounds).
"The thing about Culpepper is he's such a big, strong athletic guy," Capers said. "He can move around back there and buy time until your coverage breaks down and he can throw the ball to any place on the field."
The Vikings started the season with one of the league's deepest backfields. But injuries and suspensions leave more questions than answers heading into Sunday.
Smith is suspended, starter Michael Bennett is out at least two more weeks with a torn meniscus in his right knee and reserve Moe Williams is nursing a calf injury and did not practice Wednesday.
That leaves rookie running back Mewelde Moore as the primary running threat. The team hopes however that Williams will heal enough to see some action Sunday afternoon.
Moore has one rushing attempt for eight yards this season. His likely backup for Sunday's game, Larry Ned played in three games last season and has no NFL carries.
The Vikings average just over 100 yards per game on the ground, a nice compliment to such an explosive passing game. Minnesota is fourth in the league in time of possession and has the fewest "three-and-out" drives in the NFL.
That could all come crashing down without a competent running back.
"I'm never concerned about running the ball," Vikings head coach Mike Tice said Wednesday afternoon.* *"We're going to always try to run the football. We might be a little bit more of a passing team now with the talent we have at the wide receiver position and that the quarterback is making such great decisions. So we might be a little bit out of balance to where I'd like to be but we're certainly in balance on the down that counts and that's first down."
The Vikings don't have a good history when it comes to playing on grass.
The team is 0-6 on grass fields dating back to last season averaging 14.8 points per game. They've done much better in the last five games on turf, averaging 33 points per game.
SPECIAL TEAMS:In a game that could come down to ball control and field position special teams grows all the more important.
No, the Vikings don't have a Dante Hall-type return man, but the Texans, as always, will look to win the field position battle.
Minnesota return specialist Keenan Howry has no career touchdown returns. Moore has been handling kickoffs. He has seven returns on the season for a 20-yard average.
Texans punter Chad Stanley continues to impress with limited chances. He has punted three times for a 39.7 yard average. Kicker Kris Brown has missed only one field goal, and is 4-of-5 from 40 yards or more.
TEXANS ON OFFENSE:The Texans scored a team-record 30 points against the Raiders, but do not want to be forced to throw up similar numbers to beat the Vikings.
As always, the Texans can have success by doing well on first and second downs and facing third-and-manageable situations.
The Vikings are 31 st in the league when it comes to opponents' conversion rate on third-and-four or less. At the same time, the Vikings have allowed only five drives of more than five minutes.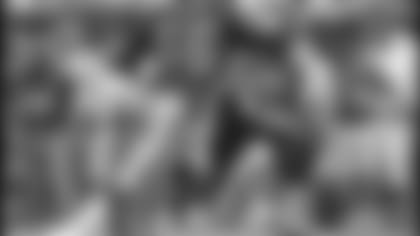 Minnesota is 29 th in the league in total defense.
The Texans did hold the ball for 7:33 seconds in one drive against the Raiders, running the ball nine out of 14 plays and kicking a game-clinching field goal.
Carr compared the Vikings defense to the Lions – tough up front and solid all over. Minnesota has three first-round draft picks on the defensive line, most notably rookie defensive end Kenechi Udeze.
Udeze has one of the team's five sacks. Defensive tackle Kevin Williams leads the team with two. The heart of the unit is defensive tackle Chris Hovan, a fiery player who is coming off a 38-tackle season.
Hovan's best season was in 2002 (73 tackles, 5.5 sacks)
However, linebackers have been the weak point of the team's front seven. Starting middle linebacker E.J. Henderson will miss the game with a knee injury. Outside linebacker Dontarrious Thomas is a rookie. The other outside backer, Chris Claiborne was listed as questionable with an injured calf on the team's Wednesday injury report.
The defense gave up 146 rushing yards against the Bears, 110 to starting running back Thomas Jones.
The Texans have a unique situation in the backfield. All three running backs have yet to enter a game together completely healthy. Starting running back Domanick Davis was inactive Sunday with an ankle injury and was limited to 12 yards on 10 carries at Kansas City.
But the running game has yet to completely collapse.
Wells efforts on the ground against the Raiders have not gone unnoticed and running back Tony Hollings is beginning to show some speed in the backfield.
"If we have all three backs healthy it gives the defense something to worry about," Hollings said. "There are a lot of things we can do with all three of us that can go out and make this offense effective.
Capers said Davis is questionable against the Vikings, but the second-year pro did participate in practice Wednesday afternoon.
"We'll probably increase his work tomorrow and see where he is but I would think he would have a chance," Capers said.
The Texans enter the game 10 th in total offense, but if the running game can't get on track against the Vikings, it may be back to the pass for Carr and the receiving corps.
That group is also rising to the occasion.
Wide receiver Andre Johnson had his best game of the season against the Raiders and Carr is on track to throw for more than 4,000 yards this season. Houston is averaging a mind-boggling 9-yards per pass attempt.
"In this offense it's going to be like that," Carr said. "You're going to put it down the field and give guys a chance to make plays. You don't have to throw it 40 times a game to get those yards. As long as we can keep our running game consistent like it was last week and show teams that we will come in and run the football then our passing game should be like it has been."
Of course, the Vikings secondary has other plans.
Cornerback Antoine Winfield was one of the league's noted free agents in the off season signing with the Vikings after five seasons in Buffalo. He is one of the better cover corners in the league.
Strong safety Corey Chavous picked off eight passes and went to the Pro Bowl last season – his sixth in the league. The Vanderbilt product has a head for the game and has been featured as an analyst on several football television shows, including coverage of the 2004 Draft.
But the Vikings defense will face a very confident Texans offense.
"If you look at us the last two weeks, we've done things we've never done as an organization," center Steve McKinney said. We went into the fourth quarter down by seven and came out on top (at Kansas City) and this last week protected the lead by driving the ball 80 yards and taking seven and half minutes off the clock. Those are two things as an organization we've never been able to do.
"That makes all the difference. When you can do that, the sky's the limit. When you get into a situation where you have to do something and the other team knows what you're doing and you still do it, that's when you know you're becoming a good football team."* *