 Texans coaches and players met with fans for lunch on Wednesday for the 2006 TEAM Luncheon, presented by Amegy Bank of Texas, at the Hyatt Regency hotel in downtown Houston. Those in attendance had the opportunity to take a deeper look at the team and hear Texans owner Bob McNair and head coach Gary Kubiak speak before kicking off the regular season.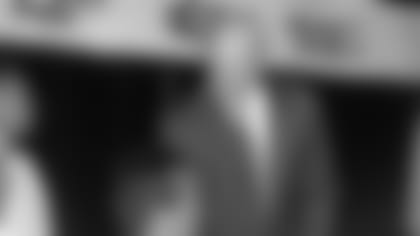 The annual fundraiser benefits the Houston Texans Foundation and the Heart of a Champion program. Heart of a Champion is a character eduation program designed to enhance the value of students in local schools. Proceeds also assist other non-profit organizations that include Boys and Girls Country, Child Advocates, The Health Museum, Juvenile Diabetes Research Foundation, and Rebuilding Together.
Fans in attendance, such as long-time supporter Donald Bowers, were excited for the opportunity to take part in the charitable event.
"I think it's important for Houston to rally behind the Texans," Bowers said. "They are our team and they bring a lot of positive things for the community. The work the McNair Foundation does with all the different charities in Houston, as well as with the education in the universities in the area, is extraordinary. It's important to support a team that supports the community at the same time. That's why we're here."
The event also brought together a couple that share the same passion for the team.
"I've come to every single TEAM luncheon and I've been a PSL owner before the stadium was built," fan Steve Hardcastle said. "I've always enjoyed this event. It's great that it's for charity. I love the Texans and now I'm dating someone who loves the Texans. It's a match made in heaven. We're always going to do everything we can to support."
Early entertainment included a highlight video featuring clips from last season and this offseason. Following the presentation, the team made its entrance and the players found their seats amongst the fans.
McNair addressed the guests first as he spoke about the team.
"We want to represent our city in a way where you'd be proud of the Texans," McNair said. "We will work hard to achieve that, give everything we've got, do whatever we need to do that. We appreciate everything you've (fans) done for us and we appreciate your support. Events like these give us the opportunity to give back to the community.
"We have a wonderful coaching staff. We have a young group of people in our organization. They are bright, enthusiastic, dedicated to the highest performance in winning. As a result of that, players are excited to have the opportunity to be part of a winning program. I know that this coaching staff that we have and the players that we have are working very hard to see a level of success this community can take pride in."
The highlight of the event was the opportunity the guests had to ask the players questions.
Kicker Kris Brown was asked about the feeling of kicking a game-winning field goal.
"I go about it as any other field goal," he said. "I savor the moment because I know that I'm the only one on the team who can go out there and do that."
Others took the opportunity to praise their teammates' work on the field.
"Eric (Moulds) makes my job easier," quarterback David Carr said. "He brings so much experience to the team that the guys can feed off of and he really couldn't have asked to come to a better group of guys."
Moulds followed up with his admiration toward a much younger, but talented wide receiver, Andre Johnson, who offered his No. 80 to Moulds when the veteran arrived in Houston this offseason.
"By him giving me the number he had earned on this team, I saw his character," Moulds said. "I wouldn't take it, but it shows how much he wanted me to come here. I'm glad I did (come) because it's good for a veteran like myself to come here and put it together with this group of young guys."
This year's first overall draft pick, Mario Williams, spoke about his experience in Houston.
"It was exciting (to be the first pick)," Willliams said. "But I was more excited to be a Texan and have the opportunity to make an impact."
Kubiak then took the podium to speak about the work he and his staff have done with the team. The new head coach also took time to welcome his parents to Houston and commend his coaching personnel.
"This coaching staff is giving us three ways to win: on defense, offense and special teams," Kubiak said. "I believe I'm working with a great staff. We've come a long way from the spring, and that's shown in the preseason. We have all the right combinations to make this a successful organization and we're going to continue to work."
Kubiak also made a promise to those in attendance.
"We won't stop working until we can stand up to say 'We're a winner,'" Kubiak said. "We've got all the facors with the players, coaches, administration and the McNair family to make this happen."
The fans heard his message loud and clear and fans such as Barbara Hauser are ready for the new season.
"I'm a Texan and I'm ready to go for a winning season," Hauser said. "It's a whole new beginning in Houston and I'm ready. Let's go Texans!"