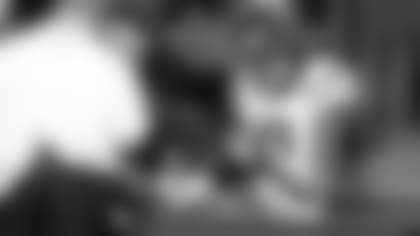 ]( "WR DeVier Posey")

Texans wide receiver DeVier Posey is unlikely to be 100 percent healthy in time for the start of the 2013 season.
One of the team's most promising rookies in 2012, Posey tore his left Achilles tendon in the Texans' Jan. 13 playoff loss to the New England Patriots.
"I think what we're looking at in DeVier is a middle-of-the-season possible player next year," Texans coach Gary Kubiak said Tuesday at the NFL Annual Meetings in Phoenix. "I think that's probably a fair assessment right now, but he's doing very well and has a bright future with our football team."
A third-round draft pick out of Ohio State, Posey emerged late in the 2012 season to become the Texans' third wide receiver. He was in prime position to push for a starting job in 2013 before his Achilles injury put him on a long road to recovery.
The likely absence of Posey until at least midseason creates more of an opportunity for Keshawn Martin and Lestar Jean. Kubiak said Tuesday that the two young receivers have "an excellent change" of taking the starting spot opposite Andre Johnson that was vacated by the release of Kevin Walter.
Posey's long rehab process also makes it more likely that the Texans use a high draft pick on a wide receiver.
"It is (a big area of need), and that's something that we'll look to the draft to get some more speed on the outside," Texans chairman and CEO Bob McNair said on Tuesday in Phoenix. "We think it's there and there are a number of players that could help us. We've done a good job in the draft, and we're going to continue building the team through the draft, try to keep our core players together and that's where we have to spend our money, and we'll pick up some veterans here and there that are reasonably priced."
Twitter.com/NickScurfield